Embattled Barcelona talisman Lionel Messi sparks rumours of Chelsea move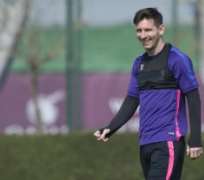 Chelsea have joined Manchester City in the race to sign Barcelona forward Lionel Messi after his father was pictured on Roman Abramovich's yacht.
Messi has been handed a 21-month prison sentence after a court in Barcelona found them guilty on three counts of tax fraud, amounting to €4.1 million.
Any fee to sign the Argentine would be over €117m, whilst Messi's father, Jorge, has met with Chelsea owner Roman Abramovich, according to The Sun, amid speculation that the superstar could leave the Camp Nou.
The meeting between the pair is thought to have taken place in the last 10 days on Abramovich's super yacht, the Eclipse.
Messi is in no hurry to sign a new deal at Barcelona, with two years remaining on his current deal, which has alerted the Blues.
[fncvideo id=154595]
Despite wanting to bring the superstar to Manchester City, new coach Pep Guardiola claimed that: "Messi would stay at Barcelona."
Chelsea are willing to better Messi's current weekly wage which is almost €700,000, whilst City have already told his father they will pay the Argentine €900,000 a week to secure his signature.