DANJUMA DONATES N83M TO CANCER PREVENTION PROGRAMME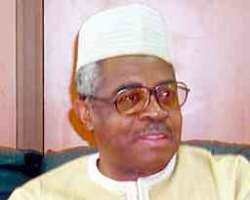 Theophilus Danjuma
The Chairman, Presidential Advisory Committee, Gen. Theophilus Danjuma (rtd) on Monday in Lagos formally presented a donation of N83m to the National Cancer Prevention Programme.
NCPP is a public health initiative of the Mass Medical Mission, a faith-based, non-profit, non-denominational and non-governmental organization promoting holistic healthcare.
Danjuma said the money was one-third of the amount required to build and equip cancer screening centres in the 36 states and the Federal Capital Territory, Abuja.
According to him, the donation was in fulfillment of his pledge during the International Cancer Awareness dinner in Abuja on March 27.
He, however, said the state governors must provide the remaining counter part funding which is two-third of the requirement sum before they could access their state's share from his donation.
Danjuma said, 'There is a string attached to my donation. My donation was one-third of the total sum of money required to install equipment in 36 states and the Federal Capital of Nigeria.
The condition is that the money for the state shall not be disbursed unless and until the counterpart funding is provided by the states. I have provided one-third, the states should provide the remaining two-third of the money before they can access the third. The states are to provide N4m, which is not a huge sum.'
The Chairman, NCPP, Mrs. Margaret Adeleke, said there was the need for a collaborative investment and efforts to fight cancer in the country. She lamented that cancer had caused the death of many people in Nigeria, saying that more strategies should be used to prevent the scourge.
Adeleke said, 'Cancer is the number one killer of mankind. It strikes one out of every two men and one out of every three women. Each and every one of us may therefore have cause to deal with in our lifetime. By 2020, 60 per cent of all new cancer cases will occur in developing countries such as Nigeria.
'Cancer presently kills 400,000 people in Nigeria annually out of an estimated 500,000 cases. Most of these deaths could have been prevented through early screening and diagnosis. Thirty per cent of all cancer can be prevented with current scientific knowledge and another 30 per cent of cancers could be cured, given earlier diagnosis.'
The Vice-Chairman, NCPP, Pastor Ituah Igbodalo, said N250m was required to buy screening equipment for the centres in 36 states and the FCT. He said that the NCPP planned to have at least one centre in each of the 774 local government areas in the federation.
He appealed to individuals, corporate organisations, federal, state and local governments to support the initiative to reduce the cancer scourge. He added that the prevention or early diagnosis of cancer will reduce greatly the deaths caused by the scourge.