ELECTION 2010: BATTLE FOR VOTES ENTERS LAST 72 HOURS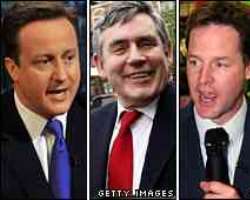 The three leaders will spend the bank holiday visiting key seats
Labour, the Conservatives and Lib Dems are into the final three days of election campaigning as polls suggest the result is still in the balance.
The Tories are ahead in the polls but not by enough to get a majority – David Cameron says they will campaign through the night in a final push from Tuesday.
But Labour said the Tories "blew" their lead early on and have not won it back.
Gordon Brown, Mr Cameron and Nick Clegg are spending the bank holiday hitting key seats they hope to win on 6 May.
Three days before the closest election since 1992, an ICM/Guardian poll puts the Conservatives on 33%, Labour and the Lib Dems on 28% while a YouGov poll for the Sun puts the Tories on 34%, Lib Dems on 29% and Labour on 28% – which continue to point to a hung parliament.
We can win this election
John Denham
Communities Secretary
BBC News Channel chief political correspondent Laura Kuenssberg said despite the final TV debate and Mr Brown having to apologise after being overheard calling a pensioner "bigoted", the polls had not really shifted over the past week.
In Blackpool on Monday, Mr Cameron said there was not "one ounce of complacency" in his campaign and pledged a through-the-night campaign in which he is expected to meet fishermen, bakers and florists who work in the early hours of the morning.
He said: "We've still got everything left to do. We are going to be campaigning incredibly hard in the last three days, including a 24-hour campaign from Tuesday night right through to Wednesday night, travelling the whole length and breadth of the country."
On Sunday he said his party had the "momentum" – and was criticised by Labour's Lord Mandelson who said Mr Cameron was "desperate to give the impression that he is home and dry" but in fact voters were "firmly resisting his soft soap campaign".
Mr Brown is in Basildon, Essex on Monday morning while Mr Clegg is in Blackheath, south-east London.
Communities Secretary John Denham denied that Labour was fighting for second place in terms of the number of votes cast.
He told BBC Radio 4's Today programme that the election would be decided "overwhelmingly" in Labour-held seats across Britain in which there were a "clear majority of people who don't want a Conservative government on Friday morning".
Minority government
If they recognised that voting Lib Dem could "let the Conservatives in" then Labour "can win this election on Thursday", he said.
Conservative sources dismissed as "speculation" newspaper reports that Mr Cameron has ruled out a coalition with the Liberal Democrats, if his party fails to win enough seats to gain a working majority.
I think we've got some momentum now to go through these last few days
David Cameron
The Daily Telegraph and the Guardian both report that the Tory leader would attempt to form a minority government instead, with the support of Unionist MPs.
Senior Conservative sources, quoted in the Guardian, say Mr Cameron would set out his plans and "dare" Labour and the Lib Dems to provoke a second election this year by voting down the Queen's Speech, planned for 25 May, or an emergency budget in July. The Conservative leader has not spoken publicly about any possible post-election deals, stressing instead his determination to win an outright majority on Thursday.
Equalities 'contract'
The Conservatives are expected to set out plans later for new rules aimed at forcing listed companies to hire more female directors, proposals to close the gender pay gap and set up mentoring schemes for female and ethnic minority entrepreneurs.
In a "contract for equalities", Work and Pensions spokeswoman Theresa May will say: "A Conservative government will use every lever to tear down the barriers that are holding too many people back. We will make Britain a fairer society for all."
The Conservative Party will never reform the banks and rebuild our economy because they are completely in hock to the City of London
Nick Clegg
Labour leader Gordon Brown is also expected to stress his commitment to fairness as he hits the campaign trail in marginal seats.
The Lib Dems will turn their fire on the Conservatives later on Monday, claiming the party has become "nearly four times as dependent on the City of London" for its funding since Mr Cameron took over as leader.
Lib Dem leader Mr Clegg will say: "The Conservative Party will never reform the banks and rebuild our economy because they are completely in hock to the City of London.
"Only the Liberal Democrats have a positive plan to put money back in the pockets of ordinary people, close the unfair loopholes for people at the top and take on the banks so they never again hold a gun to our heads and put ordinary people out of work," he will add.
Days after the final live TV debate, the three leaders will also all appear on the same platform again – although not at the same time – when they address a CitizensUK election "assembly" of about 2,500 people in London.
Each will speak for 10 minutes before taking questions from a panel about "civil society".