WHY I WANT TO GO BACK TO SENATE–ANNIE OKONKWO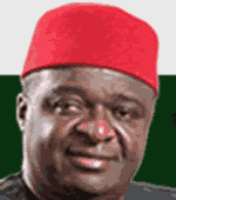 As the race for senatorial seats in 2011 gathers steam,Senator Annie Okonkwo has declared that loss of Anambra State governorship election by the Peoples Democratic Party (PDP) would not affect his senatorial chances in 2011. In this interview with Daily Sun, the distinguished senator speaks about his plans for 2011, electoral reforms, constitution amendment and the Jos crisis.
Excerpts:
Advice to Obi
From all indications, the result of Anambra election reflected the wishes of the people, and I scored it 70 per cent. Though there were some shortcomings which were expected because no election can be said to be perfect. However, I will say the election was different from what we used to have in the past. Therefore it is good for our democracy.
My candid advice to Peter Obi is to close ranks with stakeholders in the state and especially those who contested to bring about all inclusive government where all hands will be on deck to move the state forward.
PDP loss, and my chances in 2011
It's unfortunate we failed again to win Anambra State, and of course it was because of lack of internal democracy as imposition of candidate is not democratic. That is the major reason why we lost. I hope the party leaders in the state have learnt their lessons, and if PDP puts its House in order we will win more seats in the state and National Assemblies because it is very clear that Anambra State is still a PDP State. So, once, we put our house in order our problem will be over.
Campaigning for PDP
I was one of those who showed interest to contest the governorship of the state early, but all of a sudden the primaries were not conducted by the leaders of the party hence they imposed a candidate on us and some people left the party. But I decided to watch and see how the game would play out. But its an expression that we cannot stomach injustice done by the party leadership in Anambra state. Like I said earlier, lack of internal democracy cost us the state when things are not properly done, it is our duty to rise up against injustice and correct it, and we had every opportunity to correct the mistakes. It didn't happen hence we decided to watch and see things happen. But be that as it may, it's a by gone. We are looking forward to the future as all we need do now is to reconcile all aggrieved members, so that we can win more seats in 2011.
Do you intend to seek re-election?
Yes, my people are clamoring and have asked me to run again for second term for senate, and because my re-election depends on them, once they give me their mandate, of course, I will return to the senate by the grace of God.
Zoning
There is nothing like zoning in Anambra central senatorial zone which comprises seven local government areas. And these local government areas had produced senators at different times. So it is a question of delivering democracy dividends to the people that elected you. In fact, your performance will decide whether you should seek re-election or not because your score card is with the people and they will asses it to know whether you should be given another chance or not
Constitution and electoral reform
For obvious reasons, the constitution sometimes can be amended. Yes debate is going on in the National Assembly to amend some sections of the constitution all for governance and to strengthen our democracy. On electoral reform, the senate actually has decided to improve our electoral system which will empower the electorate to change government through the ballet box as it is the case in most countries even Ghana. But a situation where a ruling party perpetuates itself in power, even when the people do not want the ruling party in power yet their vote cannot remove such government. However, I realize that the only way we can continue to enjoy democracy is to have a very firm electoral reform and system that we all believe in and once that is done, surely good governance will be guaranteed.
States of affairs in the presidency
The presidency has among its responsibilities to give Nigerians good leadership and governance which I think the present government is doing. As I am talking to you now, there is no vacuum as a result of the health condition of Mr. president. The former vice president, Dr. Goodluck Jonathan has been confirmed Acting President and of course he is exercising the full power of commander in chief of the armed forces of the Federal Republic of Nigeria pending when the president resumes.
However let me remind Nigerians that nobody envisaged what we are experiencing as a nation now, because we have never been in a situation like this before. Therefore, since the president is not dead, we cannot declare him dead. So as far as I am concerned Acting President Dr. Goodluck Jonathan is exercising the authority of President and that should be allowed to be so for now.
2011 and PDP
Members of the Peoples Democratic Party (PDP) are looking for a way to strengthen the party by repositioning it for 2011 general election because we have the largest followership, and there is no credible and strong opposition. The Peoples Democratic Party(PDP) will still remain the ruling party come 2011 as reconciliation is going on to accommodate aggrieved members who left
The North
We are mere mortals. Only God can say what happens the next minute. But the most important thing is that Nigeria is bigger than one party, or one section of the country or individual and persons. So when the time comes the party will sit down and take a decision. Whether the presidency is zoned to the north or not is not the problem.
The only thing Nigerians are after is good governance that can touch their lives positively. Definitely, if power stays in the north for eight years it will surely move down to the south in 2015 and that is how the party zoned it to accommodate both majority and minority, and if power shifts to the South in 2015, the South East stands the chance to emerge the PDP standard bearer.