Kelechi Iheanacho wants 900% pay raise at Manchester City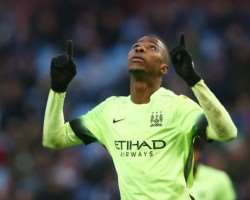 Kelechi Iheanacho at Villa Park, Birmingham, January 30. Iheanacho is reported to want a new deal from Manchester City worth £150,000-a-week. MARK THOMPSON/GETTY
Manchester City teenager Kelechi Iheanacho is seeking a £135,000 per week pay rise after a successful debut season.
The 19-year-old, who has scored 13 times in 34 appearances for City in 2015/16, is believed to be after a new deal from the club to hike his wages up to £150,000 per week.
The news comes a week after Chelsea teenager Dominic Solanke was reported to have demanded £50,000 per week from the London club. Solanke, 18, could be left out in the cold at Stamford Bridge if he refuses to lower his expectations, however. Iheanacho's advisers, according to the Daily Mirror , believe he should be on the same amount as Raheem Sterling, his fellow City team-mate.
Newsweek