Leicester City could earn $218 million for winning the Premier League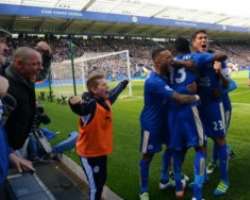 Leicester City is about to cash it it seems. The new, shocking Premier League champions, who have lost just three of their 36 league matches and clinched the crown on Monday , could earn $218 million for winning the title, according to Repucom , a sports data and marketing firm.
From Repucom:
That money would come mainly from the Premier League "Merit Payment" for winning the league as well as qualification into the UEFA Champions League next season which will drive increased match day revenues in the form of gate receipts and commercial hospitality, as well as higher valuations of sponsorship assets and growth in fan bases globally.
The Premier League distribution of revenue and prize money for finishing top of the table will see Leicester City earn potentially over £90m ($130 million) from winning the league, compared to the £71.6m ($104 million) they received last season.
Aside from an increase in revenue share, this season Leicester City's TV audiences have soared by over 23 percent across metered markets globally which will help the club to increase the value of their sponsorship properties next term. In the UK, audiences have grown from 785,000 to over one million per game, an increase of 29 percent, whilst in Italy they have doubled, arguably thanks in large part to the success of Italian manager, Claudio Ranieri.
Well, the players and the club must be happy. As for the bookies …
The Foxes are getting that money. (Getty Images)

CBS Soccer