Drogba scores beautiful, curling free kick as Montreal Impact draw 2-2 with Colorado Rapids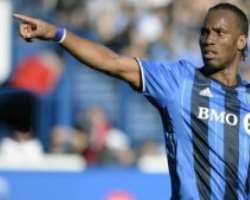 Didier Drogba scored from a free kick, but it wasn't enough for the Montreal Impact to secure a win on Saturday at a sold out Saputo Stadium, as the visiting Colorado Rapids came back from behind twice to force a 2-2 draw.
On an afternoon where the Impact felt like two points were lost, Drogba was one of the team's bright spots. Making his performance all the more positive was that it was the 38-year-old forward's third full game in only eight days.
In the post-game press conference, Impact coach Mauro Biello said that Drogba was also dealing with a cold, which explained why in the first half he needed to take a few moments to catch his breath on the sideline.
"With Didier he's been congested all week and he just had a little bit of trouble breathing because he has a bit of a cold, but he fought through it," Biello said. "This was a good week for him in terms of getting his fitness and he scored a great goal for us; he did a ton of work on the defensive side, helping us with set pieces. For this fitness were happy that he's played these three games and he's only going to get better from here."
Drogba's goal—his second of the season from three starts and two substitute appearances—came in the ninth minute of the first half. Impact midfielder Ignacio Piatti earned a foul just outside the Colorado box after he was pulled down on a run towards goal, and Drogba managed to blast the ensuing free kick over the Rapids wall and then into the bottom left corner of the goal. Colorado goalkeeper Zac MacMath managed to get a touch to Drogba's effort, but not enough of one to parry it away.
The Rapids fell 1-0 to the Impact at the end of last season at home due to a similar free-kick goal from Drogba, but this time the Rapids were able to respond with goals of their own. Designated player Shkelzen Gashi tied the game in the 47th minute, finishing off a low cross from Mekeil Williams; and after Maxim Tissot's long-range bullet gave the home side a second lead early in the second half, defender Bobby Burling finished from close range in the 73rd.
Goal.com