'Please Forgive Me' Ini Edo Apologizes To Those She Had Offended (Photos)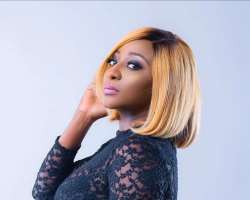 Still basking in the euphoria of her birthday which was few days ago, Nollywood actress, Ini Edo has been thrown in a sober reflection mood.
The super star and movie producer, wants all those whom she had offended to forgive her while she is ready to as well let go of the sins of her offenders.
Ini Edo penned down her gratitude via her Instagram page thus; ?"I was going though my mentions, and i must say am overwhelmed by the amount of love and prayers I got from really good people.
All I can say is thank you. I pray God in he's infinite mercies grants all that your heart desires, and may he celebrate you beyond your expectations in Jesus name amen. I also wish to apologise to whomever I may have offended consciously or unconsciously over the years,to those who may have offended me, I forgive totally from the depth of my heart. I begin dis new sphere of my life without any grudge or biase.. . I'm eternally grateful to my God who has made me what I am today and is still in de process of doing so much more...This is a beginning of a new journey...The good Lord is directing.. and testimonies abound...?" she wrote.
Ini Edo, an Edo born diva clocked 34-years on April, 19, 2016.