Mourinho 'too much'for Mancherster United players, former Chelsea colleague warns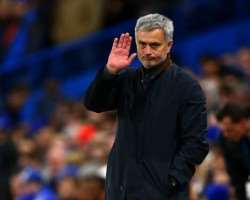 Former Chelsea manager Jose Mourinho at Stamford Bridge, London, December 9, 2015. Mourinho may have to choose between Manchester United and Paris Saint-Germain for his next job. CLIVE MASON/GETTY
Manchester United has been warned off appointing Jose Mourinho by one of his former Chelsea colleagues.
Frank Arnesen, who worked at Stamford Bridge as sporting director between 2005 and 2010, says Mourinho would change United's style due to his authoritarian nature.
"He made some drastic changes and it cost him."Mourinho is very demanding and sometimes the players can't take it," Arnesen told news agency Omnisport .
"What would happen if they replaced Van Gaal with Mourinho? The philosophy of Manchester United will go out of the window. But maybe they are that keen to have success."
Mourinho remains the prime target for United, after Jorge Mendes, the 53-year-old's agent, refuted reports that Paris Saint-Germain had held talks with the former Chelsea manager.
Arnesen also offered support to Louis Van Gaal, the current United manager who moved his team two points closer to the UEFA Champions League places with an easy 2-0 victory over Crystal Palace on Wednesday evening.
"Van Gaal could not buy all his players, but he has done tremendously well with the young kids," Arnesen said.
"Manchester United should give him at least one year more."
Arnesen, formerly head of youth development at Chelsea, speaks from experience, having criticized his former employer in April 2015 for not promoting enough players from its youth cohort into the senior side. Newsweek