HOW TO TRAIN YOUR DRAGON RECONQUERS US BOX OFFICE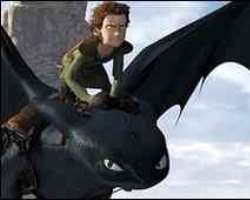 The film features the voice of Ugly Betty's America Ferrera
Animated 3D film How To Train Your Dragon has returned to number one in the North American box office chart, five weeks after its initial release.
The adventure movie took $15m (£9.75m) ahead of new releases including romantic comedy The Back-Up Plan, starring Jennifer Lopez.
Her film entered the chart at number two, taking $12m (£7.8m).
Last week's number one, British superhero movie Kick-Ass, fell back to fifth spot.
How To Train Your Dragon made $43.3m (£28.1m) in its first week, displacing Tim Burton's Alice in Wonderland from the top slot.
But then it dipped in the chart before making a resurgence last weekend, moving up from second place. US BOX OFFICE TOP FIVE
1 How To Train Your Dragon – $15m
2 The Back-Up Plan – $12m
3 Date Night – $10.6m
4 The Losers – $9.6m
5 Kick-Ass – $9.5m
Source: Hollywood.com
The Losers and Oceans were other new entries in the top 10, landing at four and eight respectively, while the rest of the rundown saw existing releases including Clash of the Titans slip.
Only Date Night, a comedy starring Tina Fey and Steve Carrell, held steady at number three.
The movie has now made a total of $67.4m (£43.9m) after three weeks in cinemas.
Alice in Wonderland, hanging on inside the top 10, has taken a total of $327m (£213m) following two months on general release.