Diego Simeone hails Atletico Madrid after stopping FC Barcelona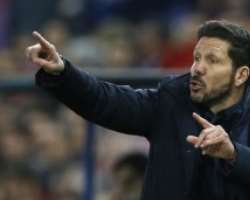 Madrid: Atletico Madrid coach Diego Simeone praised his team`s spirit after knocking holders Barcelona out of the Champions League quarter-finals on Wednesday.
 "There is a virtue in this team," he said. "We are a group of honest workers who can win or lose. We make ourselves strong with the tools we have. Today, once again, we have won a tremendously difficult game."
Simeone`s side lost the first leg of the tie 2-1 after having Fernando Torres sent off in the35th minute, but were spurred on by a raucous crowd in the Vicente Calderon and two goals from Antoine Griezmann sealed a 2-0 win and 3-2 aggregate victory.
"We were up against a very good opponent, with great history, and with players who could change the game in any moment," Simeone added.
"But our first half was very good, like in the first leg, and they were better in the second half again.
"It was a game between teams with different weapons and sometimes you win, and we won today."
After leading Atletico to the semi-finals of the competition for the second time in three seasons, Simeone admitted his next aim is to deliver the club their first European Cup, though they face a tough task in Friday`s draw.
They could face Bayern Munich, Real Madrid or Manchester City in the last four.
"We never have anything easy," added Simeone.
"Man City have enormous economic power, extraordinary players and look at the history Madrid and Bayern have.
"They are all great teams for us, but for Atletico Madrid to be among the four best in Europe is a big step.
"Now we can do more."
Reuters