30,000 PRISON INMATES AWAITING TRIAL —MINISTER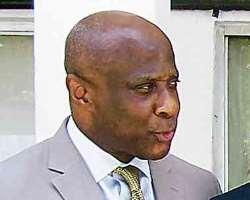 Minister of Interior, Captain Emmanuel Iheanacho (rtd.)
The Minister of Interior, Captain Emmanuel Iheanacho (rtd.), on Monday in Kaduna disclosed that over 30,000 inmates in prisons across the country were awaiting trial.
Iheanacho, who decried the appalling conditions in prisons in the country, disclosed this during a courtesy call on Governor Namadi Sambo at the Sir Kashim Ibrahim Government House, Kaduna, shortly after inspecting the facilities at the Kaduna Central Prisons.
Inmates at the Kaduna Prison had last Tuesday attempted a jailbreak, during which no fewer than 15 of them were feared killed. But the Controller-General of the Nigeria Prisons Service, Mr. Olusola Ogundipe, who confirmed the death of only two inmates, blamed the incident on congestion.
The minister, however, said that it was disheartening that of the total population of 46,000 inmates in Nigerian prisons, 30,000 of them were awaiting trial.
The problem, he said had stretched the facilities at the various prisons beyond their limits, adding that it had become imperative to address the various issues around the matter.
Iheanacho therefore urged state governors to assist in the efforts to decongest the prisons.
He added that the governors could do so by joining hands with prisons authorities to 'find the right administrative mechanism to effect the release of those who are awaiting trial or indeed to send them to trial as quickly as possible; but certainly to take them off the hands of the prison system.'
The minister said that if this was achieved, 30 per cent of the budget expended on the large number of ATMs could be used in developing additional infrastructure in the nation's prisons.
He stressed that the ministry would also be liaising with the minister of justice to work out the modalities that would ensure that judges across the country reduced the number of persons committed to prison in the course of discharge of their duty of adjudication.
Concerning the situation at the Kaduna Prisons where inmates on Tuesday last week violently revolted, Iheanacho said that the facility which currently housed 800 inmates was originally built to accommodate 570 prisoners.
The minister added that only 71 of the 812 inmates at the Kaduna Prisons were already convicted while the remaining were 'prisoners of all kinds of categories.'
This situation he said had created the appalling condition of the inmates at the Kaduna Prison.