Kpakor thumbs up Kano Pillars, Sunshine Stars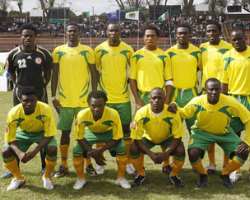 Former Super Eagles star, Moses Kpakor has said Kano Pillars and Sunshine Stars are among the clubs that have impressed him the most in the Nigeria Professional Football League.
Speaking to SHOT!, the former captain of the once dreaded BCC Lions of Gboko said Kano Pillars is obviously the most organised club in the league while Sunshine Stars also have remained consistent in its performance.
He said over the years, Pillars have proved they are willing to embrace true professionalism as they always do their best to avoid the vices that have killed other clubs.
Kpakor said from recruitment of players to management, Pillars have shown clearly that they are the best in the country.
I cannot say I have seen so much improvement in the league. However, there are clubs that I love and admire their performance.
I am talking about clubs like Kano Pillars, Sunshine Stars and Enyimba FC. The best among them is Kano Pillars who have been very consistent.
They know how to recruit and motivate their players. I enjoy the way they play and I can say they are the best organised club in the league.
There is also Sunshine Stars of Akure who have also been consistent.
Enyimba are not doing badly but they are yet to live up to their potentials," he said.
Kpakor also mentioned Lobi Stars as one of the clubs that Nigerian football fans should watch out for this season.
Lobi Stars are also coming up strongly and people should watch out for them. If they can maintain the tempo, I think they will achieve something this season, he said.