Ifeany Ubah, owner of FC Ifeanyiubah, handed 10-game ban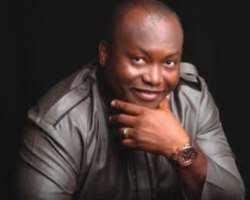 Nigeria's League Management Company on Thursday handed  a N2.5 million fine and a 10-match ban on billionaire businessman, Ifeanyi Ubah, for  slapping Heartland FC goalkeeper, Ebele Obi.
The LMC came hard on billionaire businessman and owner of Ifeanyi Uba FC.
The regulator however said in a statement on Thursday that the billionaire businessman can appeal against the ruling if he deems so.
Ubah whose act was captured in a video was found guilty of encroaching the field of play in his club's match against Heartland on March 23 and further "assaulting Heartland player Ebele Obi".
The league body, which oversees Nigeria's top-flight, further announced that four of the 10-match ban to Ubah is "suspended for a probationary period till the end of the season."
Ubah is also expected to write "a letter of apology and an undertaking to be a good ambassador of the Nigerian league."
However, Ubah has until 5pm local time (6pm CAT) on Saturday to appeal LMC's ruling.
The LMC had earlier on Wednesday reprimanded Ubah for his action until an independent video emerged on micro-blogging social media, Twitter, showing the Heartland goalkeeper, Obi, being assaulted by Ubah and his security personnel.
Also, the league company has banned "self-procured security services" from match venues except those sanctioned by it.
The Heartland goalkeeper was handed a six-game ban on Wednesday.