FG receives tips on how to finance 2016 Budget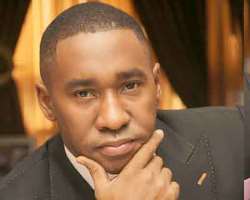 The  Chief Executive Officer of Anabel Group, Mr. Nicholas Okoye has proposed four major sources through which the federal government can source international capital to finance the deficit in the recently approved N6.06 trillion  2016  budget.
Speaking on the implementation of the 2016 budget in an exclusive chat with THISDSAY, Okoye explained that the federal government could source fund internationally through debt market, stock market, private equities and global venture capital.
He noted that some banks in Nigeria had successfully raised funds by floating international bonds, hence, the federal government could deploy the platform to mobilise funds to address budget deficit.
Okoye appealed to the government to accord priority to youth employment as part of the strategy to boost economic activities in Nigeria.
Okoye is renowned for youth empowerment advocated strategic approach towards exposure of the Nigerian youths to entrepreneurship training in order to address the problem of youth unemployment.
He explained that Anabel Group signed a Memorandum of Understanding (MoU) with the Chartered Institute of Stockbrokers in order to assist the institute  mobilise youths to enroll for Diploma in Securities and Investment .
mg src="http://thecitizenng.com/wp-content/uploads/2016/03/Fidelity-banner.png">
He described the MoU as a great initiative by the CIS to develop a financial inclusion master plan for the young Nigerians. He explained that the initiative, which is consistent with Anabel's Empower Nigeria Initiative, aims at overall development of manpower for the Nigeria's economy and creating jobs for thousands of young people.
According to him, many of the qualified youths will be supported by Anabel Group's Empower Nigeria to set up their own financial planning houses in communities across Nigeria.
Okoye noted that the programme would  provide the foot soldiers needed for the Nation's financial inclusion strategy which is being promoted by the Central Bank of Nigeria, the Federal Ministry of Finance, the Securities and Exchange Commission and the Nigerian Stock Exchange.
He expressed delight that this private sector led initiative, which is ultimately designed not just to create new jobs but also to support the mobilisation of savings all over Nigeria, would not only have a multiplier effect on the overall development of Nigeria's financial markets, but will equally provide a positive boost to the growth of our national economy in the medium and long term.
The beneficiaries would be exposed to fundamental knowledge of a wide spectrum of financial products in the securities market, pension, insurance, oil and gas.
The Anabel Leadership Academy promotes its Empower Nigeria Initiative as a strategic solution designed to create over one million new jobs in the next three to five years through entrepreneurship development and the empowerment of micro, small and medium scale businesses. Thisday