US: Speaker Paul Ryan moves stir White House talks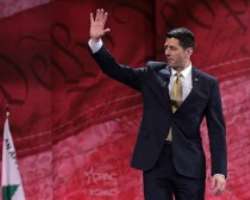 Speaker Paul Ryan (R-Wis.) could be in prime position to run for president in 2020 if Donald Trump leads the GOP to a monumental collapse in November.
With his youth and sunny, Reaganesque message, Ryan could be a formidable White House candidate in four years' time, when the Republican Party may be searching for a safer standard-bearer after the roller coaster ride of 2016.
"I honestly don't think Paul ever wants to run for president," said Washington veteran Cesar Conda, who helped Ryan land his first full-time staffer job on Capitol Hill in 1992. "But four years is a long time, and Hillary Clinton could do so much damage to the country that he might reconsider."
Many in the party had hoped that Ryan, Mitt Romney's 2012 vice presidential running mate, would jump in this cycle. But he took a pass, only to watch as Trump, the New York billionaire and reality TV star, dispatched the field one by one.
In hindsight, it was a smart move for Ryan to sit out the race. The new Speaker has managed to steer clear of the mudslinging and petty personal attacks that have defined the race while using his bully pulpit to offer a positive, forward-looking vision for the party and nation.
His "State of American Politics" speech to hundreds of congressional interns encapsulated that dynamic. Trump spent the week feuding with Sen. Ted Cruz (R-Texas) over his wife as the GOP race took on a street-fight atmosphere. Ryan, meanwhile, standing in the cavernous Ways and Means Committee room flanked by American flags, used his address to call for more civility and less name-calling in politics, never once mentioning Trump by name.
To many observers, the Speaker looked and sounded presidential.
"My dad used to say, if you're not a part of the solution, you're a part of the problem. So I have made it a mission of my Speakership to raise our gaze and aim for a brighter horizon," Ryan said. "Instead of talking about what politics is today, I want to talk about what politics can be. I want to talk about what our country can be."
The last-minute speech set off rampant speculation on Twitter. "I think Paul Ryan just launched his 2020 campaign," tweeted Chicago consultant @johnvmoore. "2020 run?" added Bloomberg's Steve Dennis.
"Ryan has slowly, carefully been pitching himself as the Republican Party's anti-Trump," wrote one Washington Post blogger, "and Wednesday's speech sounded like he hoped to emerge as an alternative to a party burned by Trump for 2020."
Ryan spokeswoman AshLee Strong, the former national press secretary for Wisconsin Gov. Scott Walker's (R) failed presidential campaign, declined to comment for this story.
But other GOP sources close to Ryan said the Speaker harbors no presidential ambitions and has not spent any time discussing a future White House bid with House colleagues or aides. Ryan launched his "Confident America" campaign this year to give House Republicans a conservative, ideas-focused policy platform to run on in 2016.
"His constant narrative is, 'I have big policy dreams for the country, not big political dreams for myself,'" said a House GOP colleague who knows Ryan well.
For Ryan, a self-described policy wonk who's chaired both the influential Ways and Means and Budget committees, that political philosophy has so far served him well.
He took an unusual path to the Speaker's office last fall after Ohio Republican John Boehner resigned under pressure from conservatives.
From the moment Boehner announced he was leaving, Ryan denied any interest in becoming Speaker — only to change his mind after the heir apparent to the gavel, Majority Leader Kevin McCarthy (R-Calif.), abruptly dropped out of the race.
Given that reversal came after Ryan had adamantly denied any interest in the job — "I don't want to be Speaker," he said early on — some are hoping he can be persuaded to change his mind about running for the White House.
With the ugly GOP primary race heading toward a possible contested convention this summer, some of the Speaker's biggest fans have begun rooting for Ryan to become this year's GOP nominee — a consensus pick in the event the delegates in Cleveland can't agree on anyone else.
"Look, he's already been vetted, he's been on a national ticket, millions of people have already voted for him in that regard, we know how he performs," Rep. Tom Cole (R-Okla.) said in an interview on C-SPAN's "Newsmakers." "And frankly, he does represent the kind of vision and values, as a Republican, you would want to put forward."
Ryan has repeatedly insisted there is no scenario in which he'll agree to be the GOP nominee this year. And any "Draft Ryan" effort in Cleveland would certainly trigger a revolt from Trump and Cruz supporters, who believe the nominee should be someone who ran for president this year and won a large number of states.
Both privately and publicly, Republicans in Washington are warning that a Trump nomination could be disastrous for the party in the general election. The businessman has called Mexican immigrants rapists, proposed a ban on Muslims coming to the U.S., mocked a disabled person, encouraged violence against protesters at his rallies and made crude remarks about women, including about former presidential candidate Carly Fiorina and Fox News's Megyn Kelly.
A Monmouth University poll released last week found Clinton crushing Trump in a general-election match-up, 48 percent to 38 percent. And there are serious concerns among establishment Republicans that a Trump ticket could have a disastrous, down-ballot impact, handing Democrats control of the Senate and possibly even the House.
Vulnerable GOP Rep. Carlos Curbelo, who represents a Miami-area swing district, is among a handful of Republicans lawmakers who have said they will not back Trump if he wins the nomination.
Asked if he could support a Ryan presidential bid in the future, Curbelo replied: "I'm always all-in for Paul Ryan — today, tomorrow and in 2020."
If Clinton wins in November, the race for the GOP primary in 2020 will once again be a crowded one. Marco Rubio, who's just 44, could certainly run again. And popular governors, including Mike Pence of Indiana and Nikki Haley of South Carolina, could take a look.
But Ryan is already a national figure and fundraising powerhouse who would match up well against Clinton. The Speaker would be just 50 on Election Day in 2020 and appeal to a younger generation of voters; Clinton, who's struggled with the youth vote, would be 73.
And Ryan, who hails from Janesville, Wis., could do well in Rust Belt states, where Clinton has had mixed results.
"He'd bring experience, intellect and, more importantly, temperament," said Conda