World Water Day: Our Role In Addressing The Global Water Challenge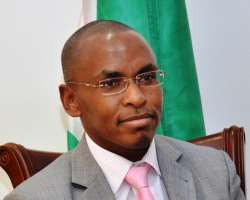 Today, is World Water Day, an international observance that shines the spotlight on the importance of freshwater and helps people to learn about water issues, and the role they can play to promote sustainability of fresh water resources.
Water is essential for nearly all aspects of society and the economy, in particular food production and security, domestic water supply and sanitation, health, energy, industry, and the functioning of ecosystems. But as crucial as water is to man's sustenance, it is sad that for hundreds of years, humanity has not done enough to use this all-important resource efficiently. As a consequence, the global outlook for water security is becoming increasinglytroubling. In January 2015, the World Economic Forum published its Global Risk Report, which ranks water crises first among the global risks of highest concern for global growth.
This projection is hardly surprising given thataround 1.2 billion people, or almost one-fifth of the world's population, live in areas of physical water scarcity. Another 1.6 billion people, or almost one quarter of the world's population, live in a developing country that lacks the necessary infrastructure to take water from rivers and aquifers (this is known as an economic water shortage). According to WaterAid, 63 million people in Nigeria also do not have access to clean and safe water.
Acknowledging the stark water–related challenges the world faces today is not about fear mongering or idealism, it's about advancing an agenda that is absolutely crucial to all of us. It's about inspiringindividuals, businesses and government to play a part in promoting the responsible use of freshwater.
It is heartening to note that water related issues are alreadygetting considerable global attention. Goal 6 of the recently unveiled United Nations'global Sustainable Development goals aims to 'Ensure access to water and sanitation for all'.But having a goal is nosubstitute for positive action; a goal in itself - noble as it may be - cannot ensure globalwater security. Progress can only be made if this ambitious goal inspires all of us to play a part each day to protect the world's freshwater from the tremendous threats it faces.
As individuals, we have an important role to playin conserving the earth's fresh water resources. We can contribute through small actions like fixing leaky pipes in our homes, turning off running taps while we brush our teeth, avoiding unnecessary waste of water while having our showers, and reusing water when we can. While these small actions may seem insignificant, they can add up to a big difference if we collectively play a part Now.Now isalso the time for businesses, especially companies who use water in manufacturing (as well as farmers who use water for irrigation) to accelerateefforts to promote efficient use of water and build long term resilience to water availability.
It is encouraging to note that, some companies in Nigeria,including the one I lead -Guinness Nigeria- are already implementing various initiatives that promote the efficient use of water. Building on our tradition of water stewardship Diageo (parent company of Guinness Nigeria) has adopted an integrated strategy (the Diageo Water Blueprint)that will help us manage our impact on water. ThisBlueprint outlines ambitious water management targets that underpin our commitment to improvingour corporate water stewardship. Guided by this Blueprint, we will be accelerating our efforts to address the global water challenge along our value chain – in sourcing of raw materials, within our operations, in the communities where we operate, and through advocacy. Leveraging our flagship, Water of Life programme, we have helped improve access to safe drinking water in Nigerian communities that face acute water scarcity. To date, Guinness Nigeria has completed 36 water projects across several states in Nigeria - serving over a million people in households across the nation.
Our commitment to improving access to clean drinking water has however not been without its challenges; however, the challenges we have encountered have inspired theadvancement of our water delivery model. For instance, to help ensure the sustainability of our water projects, we have gone into partnership with leading international NGOs who are helping us implement self-sustaining water delivery models. Recently, we provided funds that enabled Water Health International to install, operate and maintain three Water Health Centres in Nigeria. WaterHealth Centres are innovative, self-sustaining water facilities comprising a borehole, as well as an ultramodern purification equipment that treats locally available water through a 6-step purification process. Under this partnership, Water Health International manages daily operations of these facilities, as well as their routine maintenance. This model has proved effective in ensuring optimal functionality of our Water Health Centres, and helped us extend our impact by providing clean drinking water to thousands of Nigerians.
In February 2016, Guinness Nigeria also announced partnerships with renowned international NGOs – OXFAM, WaterAid and Concern Universal on three Water, Sanitation and Hygiene (WASH) programmes. All water projects we will be delivering with these partners also have in-built strategies that will help ensure the long term sustainability of provided facilities. We have also introducedsustainable technology like the use of solar-powered pumping machinesthat are not only cost effective but also environmentally friendly. Our current partnership with OXFAM, WaterAid and Concern Universal will help us provide clean drinking water to an additional 40,000 Nigerians.
Although our various water-focused interventions are already making a positive impact in many communities, we recognize that there still exists a huge opportunity to improve water resilience in Nigeria, andhelp many more Nigerians access safe drinking water.We therefore encourage other stakeholders in the society – communities, governments, regulators, NGOs, the academia etc – to partner and drive initiatives that will help achieve water resilience in Nigeria especially in the light of the country's increasing population.
We all need to take positive action to ensure that future generations also have an adequate supply of this priceless resource we all enjoy today. As an ancient Indian proverb observes, 'Wedon'tinherit the earth from our ancestors, weborrow it from our children.'I believe thatthat by the same token,'we don't inherit water from our ancestors; we borrow it from our children'.My hope is that the observance of World Water Day today rekindles our commitment to use water responsibly, and repay this debt when it is time.
Peter Ndegwa is the Managing Director of Guinness Nigeria Plc.
Disclaimer:

"The views/contents expressed in this article are the sole responsibility of the author(s) and do not necessarily reflect those of The Nigerian Voice. The Nigerian Voice will not be responsible or liable for any inaccurate or incorrect statements contained in this article."