PDP RALLY: CONTROVERSY TRAILS ARREST OF ARMED THUGS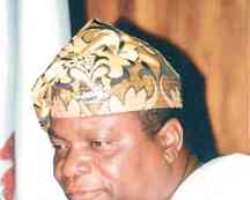 Prince Olagunsoye Oyinlola, Osun State Governor
Controversy has continued to trail the arrest of some suspected thugs alleged to be working for a governorship aspirant on the platform of the Peoples Democratic Party in Osun State.
A faction within the PDP in the state claimed that the arrested persons were hired by a governorship aspirant, who hails from Osun-East senatorial axis, adding that they were on the way to Osogbo, venue of a political meeting attended by ex-President Olusegun Obasanjo, on Saturday when they were arrested.
Leaders of the PDP in the south-west, including Governors Olagunsoye Oyinlola (Osun), Chief Adebayo Alao-Akala (Oyo), and Chief Segun Oni (Ekiti), ministers, senators, House of Representatives members, among others were present at the rally.
The faction, which was opposed to the aspiration of the aspirant, alleged that the police uncovered some arms and ammunition from the thugs, who were in a bus coming from Ile-Ife and heading to Osogbo for the rally.
Osun State Action Congress also on Sunday urged the police not to allow 'some privileged villains to go away with criminal activities because they are close to the seat of power. Everyone fingered in the movement of arms and ammunition to Osogbo by the PDP thugs should be investigated and prosecuted.'
Director of Research and Strategy, Osun AC, Mr. Sunday Akere, in a telephone interview with our correspondent, on Sunday, said 'no criminal should be allowed to escape justice in the name of politics.'
Speaking in a telephone interview with our correspondent, on Sunday, Commissioner of Police, Osun Command, Mr. Solomon Olusegun, said the suspects arrested claimed they were coming from the farm.
Olusegun, who said he led security operations throughout the state on Saturday, maintained that he arrived at the scene where the suspects were arrested in Akoda, shortly after they were apprehended.
He said, 'We must be careful in this type of case because many of the aspirants will go to any length to soil the name of the rivals. About two or three persons were arrested with cutlasses and they claimed they were coming from the farm.'