Bayern advance to quarterfinals after 4-2 thriller vs Juventus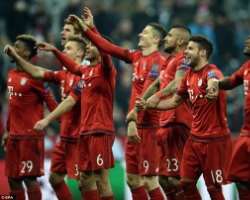 For 85 minutes, the awkward prospect of Manuel Pellegrini outrunning Pep Guardiola in the Champions League was amusingly real. For just as long, Guardiola faced the extraordinary possibility of being cast as a Bayern Munich failure.
That is the strange lot for a man who looks set to collect a third straight Bundesliga title but whose appointment three years ago was based on the greater brief of winning the Champions League. Cleaning up domestic business is nice and expected; winning in Europe is all that ever really mattered.
On Wednesday night, that almost came crashing down in a weird and wonderful match between the best of Italy and the best of Germany. Juventus crushed Bayern for more than an hour and led by goals from Paul Pogba and Juan Cuadrado, giving them a 4-2 aggregate lead.
How undignified it seemed that the man who is coming to Manchester City this summer would exit the Champions League before Pellegrini.
But then came the glorious fightback.
Robert Lewandowski gave Guardiola's side a lifeline with a 72nd-minute header and Thomas Muller scored in stoppage time, taking the game into extra-time. A pair of crosses and a pair of headed goals; it's not Guardiola football as we know it, but it did the job.
Just like that, 2-0 down on the night had become 2-2 and that became 4-2 up with excellent extra time goals from Guardiola's substitutes, Thiago Alcantara and Kingsley Coman, the latter a Juventus player on loan in Germany. Brilliantly dramatic.
And all this in a tie that had already had its share of swings in the first leg. Bayern, remember, had led 2-0 in Turin only to draw 2-2. A pair of away goals ought to have given them the edge in Munich last night, or at least a slight feeling of comfort.
The opposite was true. Whatever was Guardiola's plan, it went horribly, woefully wrong. They faced a Juventus side determined to swamp the midfield and squeeze the life out of Bayern's defence, which is precisely what happened.
The opening goal, scored after only six minutes, was a calamity of Bayern mistakes from a pair of players in Manuel Neuer and David Alaba who tend to make so few. Tellingly, they were mistakes made in panic.
Sami Khedira was the creator, in so much that he hit an excellent throughball that ultimately led to the goal.
But before it reached Pogba, Neuer made the rash decision to sprint from his goal for a ball that Alaba was better placed to deal with. Alaba hesitated as his goalkeeper closed in, allowing Stephan Lichtsteiner the opportunity to beat both men to the punch and square to Pogba. With the goal vacated, the former Manchester United midfielder threaded a shot between two covering defenders and Bayern were behind.