Creating fertile environment for investment to thrive: The Enugu State example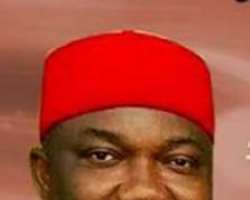 By Ralph Onuigbo
Enugu State is clearly getting attention when it comes to the likely destination of investment capital in both the domestic and international communities. The executives of Motir-Dusable Energy Investment Company Washington D.C. were on an investment mission in Enugu State recently. This is coming weeks after Governor Ifeanyi Ugwuanyi extracted foreign investors' commitments on some key projects in the state from his investment marketing drive overseas.
When any leadership clearly defines the path it wants to follow and the task it wants to accomplish, partners in progress tend to emerge naturally in the process. This, in my view, is what is beginning to take shape in Enugu State. The government in Enugu State easily gets the credit for its aggressive push towards infrastructure development aimed at improving the environment for foreign and domestic investments in the state.
While it is seeking the inflow of development capital, it is consistently taking steps to create an attractive environment that places the state in a position to compete. Ugwuanyi seems to be the Moses of our time - a God-sent leader on a worthy mission to take his people to the state of economic development that has eluded them for too long.
The Governor is therefore doggedly seeking genuine projects and programmes that will facilitate the rapid development of the state. He told the visiting American energy company officials that in pursuit of his development agenda for Enugu State, his government is ever prepared to partner and collaborate with investors, be they companies or organizations.
Many people tend to agree that the economic crisis that Nigeria is presently facing presents its own opportunities for the development of the nation's potentials. However not many people are taking steps in matching words with action. I expect that if there is one nation that should be knocking and pressing hard on the doors of the global investing community for inflow of new money into its territory right now, it should be Nigeria. And if every state of the federation is pressing as hard as the Governor of Enugu State has been doing over his nine months in office, I believe the world would have begun to take a special attention of Nigeria's irresistible investment credentials.
Nigeria is endowed with more diverse potentials in terms of human and materials resources than any other country in Africa. With market power of about 170 million people to be fed, housed, clothed and moved about, Nigeria, which is the 8th most populous nation in the world, should be a leading destination of foreign direct investment [FDI].
Nigeria's inspiring potentials are however in contradiction of its realities. The country ranks among the poorest in the world with one of the lowest GDP per head. While it has the 11th largest workforces in the world, about 70% of her citizens are living below the poverty line. It is a startling revelation that Nigeria ranks behind neighbors such as Ghana in attracting FDI.
In terms how conducive the environment for attracting investment, Nigeria ranks far behind competitors. Investment inflow is hindered mostly by a difficult environment for doing business, low and unreliable electricity generation and supply, break down of public infrastructures, security issues as well as corruption.
The steps that the government of Enugu State is taking in addressing these hurdles on the investment environment in the state are quite commendable. Electricity supply is a key element in Nigeria's investment environment generally and Ugwuanyi is likely to make considerable headway in partnering investors on developing solar power systems to generate electricity. He is committed to exploring options to the problem of constant electricity power outage to boost other economic sectors that depend primarily on energy to function.
Motir Dusable Energy Investment Company was actually in Enugu to partner with the state government on their mission to invest about one million dollars in Nigeria through their phased development power projects beginning with 100 mega watts solar plant in Udi local government council of the state.
This is a development that is in alignment with Ugwuanyi's economic development aspiration in Enugu State. To him, development of reliable options for improved electricity supply in the state is timely, coming at a time his administration is poised to revamping ailing industries. Solar power systems appears quite appropriate for Enugu State in that it will not require any materials to be supplied from outside the state unlike the gas firing plants that are located far away from the sources of raw materials.
Ugwuanyi is impressed that solar power generation produces clean energy and is not associated with health hazards, does not require water to function and also does not pollute sources of water. These features appeal to his environmental concerns in his development effort in the state. He told his visitors that harnessing solar energy is within the grasp and agenda of his administration.
The man, who is desirous for creating jobs for his people, is happy that solar system, being labour intensive compared with electricity generation from renewable energy, will create new employment opportunities to the youth and job seekers in the state. The plant, when established, is expected to provide direct employment to about 2,000 workers.
With a reliable electricity supply in Enugu State, the development agenda that Ugwuanyi is pursuing despite the present economic crunch in the country is sure to speed up. His big dream of making Enugu State an investment hub east of the Niger is gradually unfolding into a reality.
The American energy company led by its chairman Engr. Emmanuel Irono speaks highly of the government in Enugu State. He said his company chose Enugu State for the investment project in view of the stability of the state government's programmes and policies in the areas of developing a conducive environment for investment.
He expressed confidence in the government of the state led by Ugwuanyi for his development strides selflessly pursued to lift the living standard of his people. Given the high technical know-how that the company is deploying in the project, Irono is confident that Enugu State will not only become the heart of investment in the south eastern states but in the country in general.
The most attractive destinations for FDI in the world today did not attain their positions by waiting and complaining about their difficulties. They started taking the type of steps that the governor of Enugu State is presently taking. They set out to improve their infrastructures and create stable macro-economic environment just as Ugwuanyi has begun. They remained consistent in doing this, which is the critical ingredient of success that Ugwuanyi should also strive to maintain in the midst of understandably big challenges for meeting the immediate and short-term needs of government.
Onuigbo, a public affairs commentator writes from Enugu