Dera Allison – Specially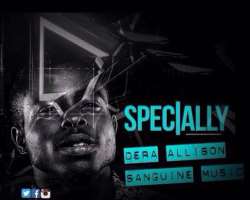 Chidera John Allison popularly known as Dera Allison is an Afro-pop|high-life music artist, who also has a touch of RnB tunes on his songs.
He is currently a co-owner to a brand freak music label(SANGUINE ENTERTAINMENT).
Dera Allison who is known for his Afro-pop and high-life musical mixture, has come up with a club banging and ceremony unfolding tune (SPECIALLY), produced by T-snare. This jam has a feeling it adds to any environment when its played. So trust me, you wouldn't regret having it on your playlist.
DOWNLOAD LINK:
http://old.hulkshare.com/dl/4g5zl1nbtpz4/SPECIALLY_BY_DERA_ALLISON.mp3?d=1