Biafra: DSS operatives tried to kill Kanu – Lawyer tells court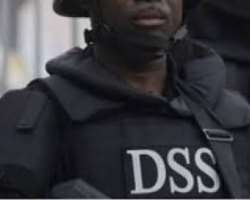 One of the counsels to the embattled leader of the Indigenous People of Biafra, IPOB, Nnamdi Kanu, on Monday, informed the Justice John Tsoho-led Federal High Court in Abuja that operatives of the Department of State Service, DSS, tried to kill him.
The trial of Kanu which was supposed to commence today before the Justice John Tsoho-led court could not as the prosecution led by Mohammed Diri informed the court that Kanu's counsels and family members were constituting threats to the lives of its witnesses.
Kanu and two others, Benjamin Maudubugwu and David Nwawuisi are standing trial for alleged treason, maintaining unlawful society among other charges.
Diri, while reading from a short note he claimed was written by an official of the Department of State Service, DSS, said counsel to the embattled pro-Biafra agitator had altercation with members of the DSS, while trying to enter the courtroom.
The prosecution prayed the court to adjourn the matter until its witnesses will be granted the needed protection so as to testify before the court.
However, the lead defence counsel, Chuks Mouma urged the court to grant permission to Ifeayin Ejiofor, the counsel who had altercation with the DSS, to explain what happened.
According to Ejiofor, the operatives barred some members of Kanu's family members from entering the court, insisting that they would only allow three additional family members to join those already in the court premises.

Ejiofor told the court that when he tried to explain to the operatives that the court had earlier ordered members of the public to witness the proceedings, one of them threatened to kill him.

He therefore prayed the court to take note of the threat.

'My lord I will like you to take note of this threat to my life, because I don't know what will happen tomorrow,' Ejiofor said.

Justice Tsoho declared that since the matter had taken a different turn from the expected, both parties should decide whether or not they wanted the trial to continue.

The judge held that if the parties to the matter felt threatened, the case might as well be handed over to the celestial order to resolve. – Daily Post.