Benitez Says Liverpool Can Still Reach Europa Final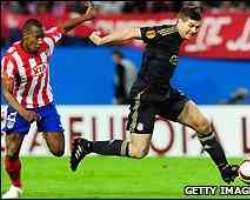 Liverpool captain Gerrard failed to add to his 10 goals this season
Liverpool boss Rafael Benitez says his side can draw on past experience to reach the Europa League final.
Benitez saw his side put in a lethargic display in Spain as they were beaten 1-0 in the first leg of their semi-final against Atletico Madrid.
But Benitez believes that Liverpool can overcome a first-leg deficit for the third time in the campaign.
"We've been in the situation before and we've found we can win, so hopefully it will be the same again," he said.
Already in this season's competition, Liverpool have progressed after losing first-leg ties against Lille and Benfica, a feat they will have to repeat after former Manchester United striker Diego Forlan's ninth-minute strike gave Atletico a slender advantage.
And while admitting his frustration at his side's failure to score an away goal in the absence of top-scorer Fernando Torres, Benitez stated that he was confident Liverpool would be in the Hamburg final on 12 May.
"It will be difficult because 1-0 is always a dangerous score, but we are still confident," he said.
"We've done it in the past and we have to approach the game with this confidence and it would then be easier for us to play better and to score more goals.
"We had two or three chances and we missed the target, which was a pity. These kind of games you have to take your chances.
"But the second leg (on 29 April) is at Anfield and I am confident. Anfield is massive and with the fans behind us we can beat anyone."
Much had been made of Liverpool's 1,200-mile journey – complicated by the volcanic ash cloud travel chaos – by coach, rail and air, but Benitez refused to use that as an excuse.
Instead the Spaniard was left lamenting the manner of Atletico's goal, the questionable decision to rule out a Yossi Benayoun strike for offside and his forwards' failure to take presentable chances.
"It was fine. We were working hard – that's the main thing," he said.
"We are disappointed because we conceded a strange goal and we could not score, you always want to score.
"I think (Benayoun's goal) was onside but in football you cannot change things after the game. But it's OK. It's half-time."
Liverpool goalkeeper Jose Reina prevented further damage for the visitors with second-half saves from Simao and Tomas Ujfalusi.
Reina, whose father Miguel Reina played for Atletico, reflected: "The team didn't play well at all but it is still possible – there are 90 minutes to play at Anfield. We knew they were going to push – in the Calderon, they are a strong team.
"But after 20 minutes we settled down a little bit better and they didn't create too many things.
"We can't be happy but it could have been worse.
"We are behind now and it is very difficult but if there is one team who can do it with their fans behind them, it is Liverpool."
Liverpool captain Steven Gerrard is also confident his side can win through and progress to the final at Hamburg's HSH Nordbank Arena on 12 May, where they will meet either the German side or Fulham.
"A couple of things will stand us in good stead," Gerrard said. "Firstly our experience, because we have been here before in Europe and turned these kind of deficits around before.
"And also our fans, because these kind of stages are perfect for the supporters. They are our 12th man – they will lift Anfield and we believe we can turn any result around, especially a 1-0 defeat.
"The sooner next Thursday comes around, the better. As a player, these are the stages you want to play on and these are the nights where heroes are made."
Atletico coach Quique Sanchez Flores agreed that the tie is finely balanced going into the second leg.
"It was an intense game, very tiring. A second goal would have completed the match but we can't complain," he said.
"One-nil is a good result, the dressing room is optimistic but we know the game will be decided in the second leg. The team is prepared and we have to focus on playing on the pitch, it doesn't matter what is going on off it
Atletico striker Diego Forlan on the atmosphere his side can expect at Anfield in the second leg
"We need to play a good second leg as Liverpool will come out strongly.
"They [Liverpool] probably feel they didn't play a good match but they fought and only lost by a narrow margin.
"Even in their worst matches they score a six out of 10, they never disappoint."
Atletico's goalscorer Forlan is wary about his side's hopes but says he and his team-mates will be ready for the intense atmosphere at Anfield.
"I don't think we are favourites," the Uruguayan striker said. "We know we did a good job, we won the game and they didn't score but they are a strong team with good players and we know it is going to be a difficult game.
"We have played them a lot recently, in the Champions League last year and in a friendly at the start of the season so we know what their fans will be like.
"But the team is prepared and we have to focus on playing on the pitch, it doesn't matter what is going on off it."