Oliseh resigns as Super Eagles Coach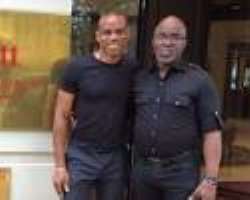 Sunday Oliseh has resigned his appointment as the Coach of Super Eagles of Nigeria, citing  contract violations and failure to pay his wages by the failure by Nigeria Football Federation.
"Due to contract violations, lack of support, unpaid wages, benefits to my players, assistant coaches and myself, I resign as Super Eagles chief coach," he tweeted on his verified account on Friday.
"I feel fortunate, blessed and eternally grateful for having had the honour to play, captain and coach this great nation of ours, Nigeria," added the former World Cup star, who had been in the job since mid-July.
There was no immediate reaction from the Nigerian Football Federation, whose leaders are in Zurich for Friday's FIFA Congress.
Nigeria host seven-time African champions and group leaders Egypt on March 25 in Kaduna before a return fixture days later, with only the overall group winners guaranteed automatic qualification to the 2017 Nations Cup in Gabon. "Oliseh has resigned as Super Eagles coach after he did not enjoy the right support from the Nigeria Football Federation (NFF)," a top official was cited to have said on Friday.
According to the official, Oliseh also  complained of several breaches to his contract with the NFF.
 Oliseh has complained he is owed four months' salary and has not received accommodation in the capital of Abuja that he had been promised.
Oliseh who was invited by the Technical Committee to defend his list of invitees for the upcoming African Nations Cup qualified. was said to have sent words to say he had some important meetings to hold with some players and such he would not come.
Oliseh reportedly also  complained he was owed four months' salary and had not received accommodation in the capital of Abuja that he had been promised.
It is also understood that he was unhappy over the dismissal of his personal assistant, former international Tijjani Babangida, and rumours that the NFF approached former Cote d'Ivoire coach Herve Renard, who has since been appointed coach of Morocco. Former Nigeria skipper Oliseh was appointed as coach in July 2015, replacing sacked Stephen Keshi.
However, the relationship between him and the NFF has soured since Nigeria failed to go past the group stage of the recent African Nations Championship in Rwanda. Amid speculation over his future, Oliseh took to social media platform YouTube to vent his frustration by attacking his critics who wanted him sacked, but he would later apologise. Nigerian sports minister Solomon Dalung waded into the crisis when he advised against sacking the coach.
Oliseh, who had no previous coaching experience, had helped Nigeria advance to the next phase of World Cup qualification, albeit by an unconvincing aggregate triumph over tiny Swaziland in November.
However, he fared less favourably when in charge of the Nigeria team which performed poorly at last month's African Nations Championship in Rwanda, a tournament for quasi-national sides made up only of home-based players.
The resignation comes less than a month before Nigeria meet Egypt twice in the space of five days in key qualifiers for the 2017 African Nations Cup finals.
The 41-year-old Oliseh, a former midfielder who played at Ajax, Borussia Dortmund and Juventus, featured for the national side between 1993 and 2002.
He won the Nations Cup as a player in 1994 and Olympic gold in Atlanta in 1996 and played at two World Cups.
He had a fiery reputation as a player, missing the 2002 World Cup for disciplinary reasons and was later sacked by Dortmund for allegedly punching a team mate Vahid Hashemian during a loan spell at VfL Bochum.
The Rainbow with agency reports