ERICSSON'S PROFIT AND SALES FALL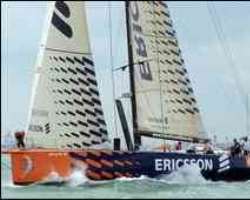 Ericsson has recently signed some major Chinese deals
Swedish telecoms equipment group Ericsson has reported a fall in first-quarter profit and sales.
Its operating profit, excluding joint ventures and restructuring costs, was 4.5bn Swedish crowns ($625m: £407m) against 4.7bn crowns a year ago.
Meanwhile, its first quarter sales were 45.1bn crowns, a drop of 9% from the year before.
Boss Hans Vestberg said there had been "mixed operator investment behaviour across regions and markets".
Last month, Ericsson announced deals with China Mobile and China Unicom worth a combined $1.8bn.
Ericsson will provide China Mobile, the world's biggest mobile operator, with equipment to boost the capacity of its mobile network.
It will supply its rival, China Unicom, with a faster 3G network.
Remarking on the financial results, analyst Thomas Langer at West LB said: "I think this is a weak start of the year."
He said that sales were "somewhat disappointing", but that there should be a better second half of the year for Ericsson.