Manchester United gets incredible $144m offer for Wayne Rooney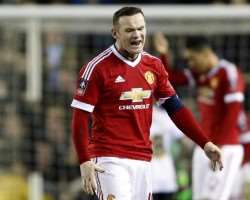 Football Soccer – Derby County v Manchester United – FA Cup Fourth Round – iPro Stadium – 29/1/16 Manchester United's Wayne Rooney looks dejected after George Thorne scored the first goal for Derby Action Images via Reuters / Carl Recine Livepic EDITORIAL USE ONLY. No use with unauthorized audio, video, data, fixture lists, club/league logos or "live" services. Online in-match use limited to 45 images, no video emulation. No use in betting, games or single club/league/player publications. Please contact your account representative for further details.
Manchester United has reportedly received an "incredible" offer of 100 million pounds ($144 million) from the wild-spending Chinese Super League for the services of Wayne Rooney . Given the England forward's marketability, the alleged fee is considerably higher than the $46 million that Guangzhou Evergrande spent on Atletico Madrid's Jackson Martinez .
So, should Manchester United sell Wayne Rooney ?
From a football perspective, selling a slumping, injured 30-year-old striker for a massive pile of cash seems like a no-brainer. After all, Rooney expects to sit out for the next six to eight weeks with ligament damage in his knee, so the Red Devils cannot rely on their captain to lead the squad to a top-four finish or glory in the FA Cup or Europa League. More than likely, United will end the season trophy-less.
Considering United has a squad laden with attacking starlets like Memphis Depay , Anthony Martial and Jesse Lingard , selling Rooney now and moving forward with a new-look rebuilding project makes a great deal of sense. Frankly, removing Rooney's $20 million salary would be reason enough to make the deal, but the added promise of a transfer fee of $50 million (or greater) should make this an offer that simply cannot be refused.
Only, selling Rooney is not simply a football decision.
Selling the former Everton youth product is a bit trickier than it appears on the surface. As the club expanded and grew its global following to unbelievable heights during the Sir Alex Ferguson era, Rooney became the face of Manchester United after David Beckham and Cristiano Ronaldo .
Rooney is only five goals away from passing Bobby Charlton for the title of United's greatest all-time goal scorer, so the club would be making a football business decision, proving that even the long-tenured servants can be sacrificed for profits in the modern game. From a player perspective, Rooney's move could also further jeopardize his involvement with England for Euro 2016.
Beyond greater financial rewards for the player, a move to China would likely hurt Rooney's ambitions with cementing his position at Manchester United and effectively end his England career. Rooney would be the biggest star to arrive in China, though, so the financial gains expect to be tempting, at the least.
For the club, selling Rooney to China would leave the Red Devils' impressive global brand without a face. At least until the summer, Manchester United would not offer a single identifiable household name that spans the globe.
With Manchester United manager Louis van Gaal under pressure for underachieving, the arrival of a new boss could spell the end of Rooney anyhow. In many ways, Rooney's sale would pave the way for a new era at Manchester United, as the club continues to search for a new identity.
Who could be that new face of Manchester United?
Neymar would be the obvious choice, as United had been previously rumored to be interested in the Barcelona star's services. Considering Neymar only earned $14 million in salary in 2015, a move to Manchester United could instantly become a marketing match made in heaven. The 24-year-old is a marketing machine in his native Brazil, and Forbes reported that he earned more in endorsements than salary in 2015.
In terms of marketing, Neymar would be the perfect player to drive Manchester United to new heights. Considering the insane amounts of cash expected to arrive due to the new television contracts, United could hit Barcelona with a record-breaking offer that the Spanish giants and the Brazilian would have a tough time denying.
Once upon a time, Manchester United sold Beckham and Ronaldo. Now, it's time to sell Rooney.
Shahan Ahmed is a soccer columnist for Yahoo Sports. Follow Shahan on Twitter: @ShahanLA and @perfectpass