Luiz slams Chelsea treatment of John Terry, says Mourinho suitable for Man United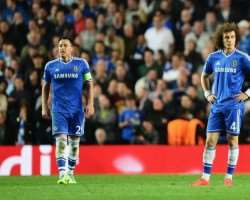 Former Chelsea defender David Luiz has lashed out at his ex-employers for not handing club captain John Terry a new contract.
The Brazil international left Stamford Bridge in 2014 for Paris Saint-Germain, who will face the Blues in the last 16 of the Champions League on Tuesday night.
Speaking ahead of the game, the popular Luiz blasted the English champions for lacking respect towards one of the club's iconic players, per John Cross of the Daily Mirror:
John is probably Chelsea's greatest ever player, the club need to show him some more respect. He has been clear that he wants to stay at the club, and they are making him wait for an answer.

That is not how you treat a player who has given you so much and been a big part of so much success. The fans love John—if this is not handled well, they are not going to be happy.

I am confused why John hasn't been offered a new contract. He is still the best central defender at the club and one of the best in England, there should be no question about him being offered another a year. I really don't know what to say, the whole situation has confused me. I think it's obvious to everybody he deserves an extension.
Aurelien Meunier/Getty Images
After a recent win over MK Dons in the FA Cup Terry conceded he may be playing his last season at Stamford Bridge, with the club yet to offer him an extension to the contract that expires at the end of this campaign. The Chelsea captain will miss the first leg of the clash with PSG in Paris due to an injury accrued in his previous contest.
The fact that his absence is still being labelled as a blow for the Blues despite being 35 is telling. Indeed, as Luiz noted, Terry is still a very capable defender. Guus Hiddink will know his side's chances will be diminished without him.
The Chelsea fans want him to stick around too. As football writer Seb Stafford-Bloor noted here, the club's supporters would be keen to see Terry sign on for much longer yet:
It would have been intriguing to see the reaction to this contract drama had Jose Mourinho still been in charge at Chelsea. Terry was a central figure during his two stints at the club, the second of which ended earlier this season after a horrendous beginning to the campaign.
Luiz worked under Mourinho during his first season back at Chelsea in 2013-14 and thinks he'd be a brilliant fit for the Premier League giants. The Portuguese has been linked with a move to Manchester United at the end of the season, per  Joe Bernstein  of the Mail on Sunday
"You can't dispute the success he has had—that is why I am sure Manchester United are looking at him," said Luiz, per Jamie Anderson of the Daily Star. "I don't think Jose would have any problem taking the Manchester United job. Yes, he will always care for Chelsea, but Jose does what is best for Jose."
GERARD JULIEN/Getty Images
Ahead of the tie, the French champions are a staggering 24 points clear at the top of Ligue 1 and will fancy their chances of going far in the Champions League too. As we can see here courtesy of Sky Sports News HQ, the respective champions are enduring very contrasting campaigns:
Having been in a Chelsea dressing room guided by Terry, Luiz is well placed to comment on the captain's influence. But with no new manager determined for next season by the Blues, expect this contract saga to rumble on and on until the next boss is in position to make a decision on whether he wants the veteran around or otherwise.
Perhaps this summer is the best time to begin life after Terry. Granted, he's still arguably the finest central defender at the club, but he can't go on forever.