Manchester United may appoint Jose Mourino before Arsenal match: Reports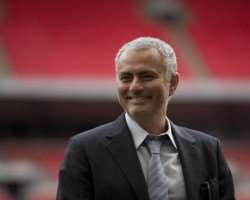 Manchester United could reportedly replace Louis van Gaal with Jose Mourinho before the Red Devils' next Premier League outing—their match with Arsenal  at Old Trafford on February 28.
That's according to  Neil Custis in an exclusive for the Sun, who reported United had intended to wait until the end of the season, but following Saturday's 2-1 defeat to Sunderland , "they believe they will lose nothing" in acting now.
The club are reportedly "convinced" their supporters would welcome Mourinho as they "pay close attention" to their fanbase on social media.
United's apparent haste to land Mourinho might also be driven by their fear of missing out on the Special One if they wait too long, per  Duncan Castles  of the Sunday Times:
Van Gaal's future is further cast in doubt by Guy Patrick 's exclusive in the Sun, as he reported the Dutchman is set to move into a new flat, but rather than commit to a six-month tenancy, he's agreed to pay £4,500 in rent on a rolling monthly basis—£1,500 per month more than he would have with a fixed term—so he can leave "at the drop of a hat."
Per Patrick, a United source said: "Fans will speculate that this means the end is nigh for Louis—and that might well be the case. But it could also mean that he wants to actually buy somewhere here and wants to be able to move in as quickly as possible."
Scott Heppell/Associated Press
Yet more pressure was heaped on the beleaguered manager on Saturday as fifth-placed United lost to relegation candidates Sunderland—the Black Cats' first win in five games—ensuring they failed to close the gap on the top four.
Luckily for United, the top four all played each other, and with Manchester City losing, UEFA Champions League football is still just six points away.
With Leicester City 12 points ahead and north London duo Tottenham Hotspur and Arsenal both 10 points clear of United, any traces of faint title hopes must surely have evaporated, though, and based on the Red Devils' current form, even a six-point gap looks too difficult to overcome.
As Samuel Luckhurst of the Manchester Evening News notes, the 64-year-old admitted as much himself, and the reporter would welcome Mourinho's arrival to turn things around:
Football writer Liam Canning expressed his disbelief at United's form under Van Gaal and rues their inability to capitalise on City struggling also:
The Red Devils have the chance to build up some momentum ahead of the visit by Arsenal as their next three matches consist of two legs against Midtjylland in the UEFA Europa League either side of an FA Cup tie with League One strugglers Shrewsbury Town .
In their current state, that's easier said than done.
Should United bring in Mourinho?
What could give United some pause in hiring Mourinho now is his lack of a track record in turning around difficult spells—his only real experience of it came earlier this season with Chelsea , and he spectacularly failed to salvage the situation.
However, his trophy record coupled with the displeasure many fans appear to feel at Van Gaal and his brand of football means the Portuguese probably would be a popular choice, and the boost his mere arrival could bring to the team could get them back on track.
While their preference to wait until the summer to act is understandable, they have little to lose at this point, so it wouldn't be particularly surprising if Mourinho is drafted in—especially if the team produce more abject displays in the coming weeks.