Danny Welbeck's last-gasp header gives Arsenal 2-1 win over 10-man Leicester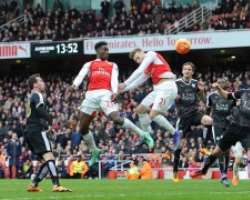 Danny Welbeck 's goal in the fourth minute of stoppage time propelled Arsenal to a stunning come-from-behind win and denied valiant 10-man Leicester City of a point at the Emirates Stadium on Sunday.
It was Welbeck's first game in 10 months, and the substitute needed just 12 minutes to head home Mesut Ozil's free kick and push Arsenal to all three points. Theo Walcott also scored for the Gunners
Jamie Vardy won and converted a first half penalty , but Danny Simpson picked up a pair of second-half yellow cards to drop the leaders to 10 men for 36 minutes.
The loss cuts into Leicester's table lead, with Arsenal moving within two points of the Foxes. Spurs and Man City play later today.
Arsenal earned a quick corner to open the action, and Alex Oxlade-Chamberlain 's hard, curling offering was headed just wide by Alexis Sanchez .
The quarter-hour mark was big on action, as Aaron Ramsey found himself racing for a loose ball with Leicester keeper Kaspar Schmeichel, who won the race with a sliding clearance. At the other end, Petr Cech slid to keep Jamie Vardy's header from crossing the goal line.
Olivier Giroud has a headed goal correctly ruled offside in the 33rd minute.
And then, just before halftime, Martin Atkinson whistled Nacho Monreal 's block of a Jamie Vardy run in the box. Arsenal felt aggrieved by the decision, but it would've been hard to see anything nefarious from Vardy in real-time, if at all.
The complexion of the match changed in the 55th minute when Danny Simpson picked up his second yellow card of the half. There was no doubt he was pulling on Giroud's arm, and a caution-heavy affair found an ejection.
The move meant Marcin Wasilewski would sub in for Riyad Mahrez , and the Foxes' attacking idea dipped significantly.
Giroud then laid off a Hector Bellerin cross for Walcott, who deftly maneuvered to push a shot past Schmeichel. 1-1 with 20 minutes to play. Game on.
Arsenal had plenty of chances to take the lead, and their failures to finish weren't just down to Leicester's discipline.
Schmeichel made a huge right-hand save on Giroud in the 88th minute, extending to his right to deny the Frenchman. But Welbeck flicked Ozil's free kick home to make it 2-1 with moments to play.