Herbalist Who Uses Women Underwear for Ritual Caught in Anambra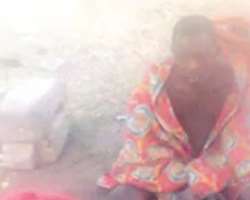 Some women in Okpoko in Ogbaru Local Government Area of Anambra State, were thrown into shock recently when they discovered that their underwear were being used by an herbalist to make rituals.
The herbalist, Francis Omeife, atrocities came to light after a woman he has held 'spiritually' hostage for over five years, Chinenye, reported to her friend, Chioma, that she saw her pants among other women pants being used for ritual by the native doctor.
Omeife was accused of using women's underwear, toy babies, hair, shoes, clothes, bras, among others as ritual materials.
Reports have it that Chioma went with her friend to the native doctor's house at 1, Ezeakunne Street and saw her pants with others in some pots of concoctions and has they tried to take the underwear away, the herbalist dragged it with them and their scream attracted other women who were around.
The herbalist claimed that he got his power from water which he used to make a woman to menstruate ceaselessly.
Youths stormed the place and almost lynched him but for the intervention of a group of boys believed to be members of the Movement for the Actualisation of the Sovereign State of Biafra (MASSOB), stormed the place and rescued him.