Diego Costa strikes at stoppage time as Chelsea, Man United end it 1-1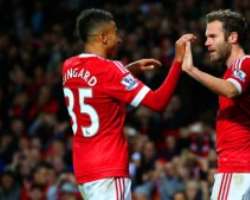 Despite Jesse Lingard 's stunning strike and Diego Costa's dramatic stoppage time equalizer on Sunday  at Stamford Bridge, the cracks could not be papered over fully during the 1-1 draw.
Both Chelsea and Manchester United have many deficiencies and are a long way from past glories. Both clubs are in a state of flux with future's uncertain as rumors continue about Louis Van Gaal being replaced and Chelsea to welcome a new manager this summer.
Chelsea's slide to mediocrity, as has been well documented, has been dramatic. The defending Premier League champions looked wary of springing too many attacks and their midfield creators were too eager to look back and sideways rather than take a chance. With Guus Hiddink in charge on an interim basis and the long-term direction of the club unclear, it's easy to understand why Chelsea's players seem unable to click into top gear. Since Jose Mourinho was fired in December they've gone 10 games unbeaten in all competitions but have drawn six of those.
As for United, they've come through a rough stretch of not scoring goals and despite letting three points slip late on Van Gaal will be heartened that his side created numerous chances. Anthony Martial looked unplayable at times. Lingard's goal and overall play was hugely impressive and Wayne Rooney seemed to be in the groove, chipping over and having an acrobatic effort squirm just wide.
That said, the same deficiencies which have held back two giants of the Premier League all season surfaced once again.
Chelsea started slowly and were over-cautious in attack. They looked nervous in possession of the ball and United's central midfield trio of Michael Carrick , Juan Mata and Maroune Fellaini overran Chelsea's midfield trio of Nemanja Matic , Cesc Fabregas and John Obi Mikel . Chelsea finally equalized but slow build up play has been a regular theme of their season — with multiple demoralizing defeats during Mourinho's final months in charge taking its toll — and United dealt with plenty of their attackers far too easily.
ProSoccerTalk asked Hiddink after the game if he felt his team was being too cautious.
"I think in the first part you have to say Manchester United stretched us out, they did well and they have good players. But when you have the reaction that is a little bit insecure to drop back then you are in trouble," Hiddink said. "If one or two players drop back then you are in trouble. You have to do it collectively, which I don't like, but I like when they go collectively forward which we tried to initiate a bit after a period. Then you see that go we go into the duels and we win it, then we got the chances from there."
United's main deficiency this season has been giving up costly goals at pivotal times. They simply don't score enough to be able to leak goals as they have done in recent encounters. In three of their last five PL outings — a 3-3 draw with Newcastle, a 1-0 defeat at home to Southampton and the 1-1 draw with Chelsea — they've conceded late goals to cost them a total of five points.
Speaking to the media afterwards, Van Gaal knows that can't continue if they're going to finish in the top four.
"That's why I am frustrated and my players are frustrated. When you are playing like we have played today and you are not making the gap smaller. You can say its misfortune but it's not the first time that is overcoming us. For example Newcastle United scored in extra time. We have to do that better, improve in that way. I am happy with the performance. It was not a boring match so for the third time in the row it was sparkling. I hope to get the support of the media this week."
There's not much chance of that. Even if Van Gaal's side showed more attacking intent, similar problems in defense stopped them from closing the gap on the top four as they're now six points off fourth-placed Manchester City.
The main thing we learned from Stamford Bridge on Sunday was that two giants are treading water and their futures remain uncertain.
Player ratings:
The story changed late as Diego Costa pulled Chelsea level in injury time, but here we look at the full body of work. Who stood out and who didn't?
CHELSEA
GK  Thibaut Courtois : 7 – Forced into a number of early saves, including a spectacular one on Anthony Martial .
RB Branislav Ivanovic : 6 – Beat consistently by Martial in the opening 20 minutes.
CB John Terry : 6 – Got little face time, which is good for a center-back. Had a skillful volley that hit the hand of Blind. Proved vulnerable to low, driven crosses.
CB Kurt Zouma : 5 – Was a bit off his game until suffering a gruesome leg injury.
LB Cesar Azpilicueta: 5 – Had nothing going forward and was defending Lingard on United's goal.
CM Nemanja Matic : 4 – Wasteful going forward, erratic on the ball, and terrible in the air. Did not even record an attempted tackle. Removed with 23 minutes to go.
CM John Obi Mikel : 6 – Distributed the ball forward quite well for a player known for his defensive presence.
LW Oscar : 5 – Totally invisible against Matteo Darmian , yanked for Hazard.
CM Cesc Fabregas: 5 – Seemed overshadowed by Juan Mata in the first half, but came back to be somewhat of a lynchpin in the second 45. Still, was relatively invisible in the attacking third outside of his shot in the 72nd minute.
RW Willian : 8 – Put young Borthwick-Jackson on roller skates and was a spark plug for the Chelsea offense once they got going.
ST Diego Costa: 7 – Had little service for much of the match, but made a perfect run and torched Borthwick-Jackson on his late goal.
Subs
Eden Hazard : 5 – Equally as ineffective as Oscar against Darmian, who had an outstanding game.
Gary Cahill – 5 – Let Borthwick-Jackson's cross go right by him on Lingard's goal. Little action otherwise.
Pedro – N/A
MANCHESTER UNITED
GK David De Gea : 8 – Was a brick wall in goal, preserving the lead on a shot from Cesc Fabregas with 19 minutes to go. Will wish he stayed home on Costa's goal, instead of getting mixed up with Borthwick-Jackson.
RB Matteo Darmian: 8 – Was ever-present up the right side, bombing forward to provide support. Defensively, recorded a whopping seven successful tackles, locking down Oscar and forcing Hiddink to replace the Brazilian with Hazard, who was also ineffective.
CB Chris Smalling : 6 – Distribution was poor but defended well in the box.
CB Daley Blind : 5 – Had a few poor corners, but his distribution was effective out of the back. Total brain fart on Costa's goal, leaving his mark to try and jump the Fabregas pass; failed miserably.
LB Cameron Borthwick-Jackson : 4 – Really struggled to contain Willian early, but blocked a few crosses and served in the cross that led to United's goal. Attempted a weak tackle one-on-one with Costa on Chelsea's late goal.
CM Marouane Fellaini : 6 – Influential in the first half with his powerful presence, but faded through the second half and was substituted.
CM Michael Carrick : 7 – Had an outstanding first half in the middle allowing Fellaini to push up and press hard. Like Fellaini, also faded as the game went on and Chelsea began to gain control.
CM Juan Mata: 7 – Was solid in the attack early, distributing to wide areas.
LW Anthony Martial: 7 – Was crucial to the early pressure from United in both halves, but wasted his best chance in the 50th minute dragging a close-range shot wide.
RW Jesse Lingard : 7 – Stunning turn and shot for United's first goal. Was active for much of the 90.
ST Wayne Rooney : 6 – Was relatively invisible in the first half. Forced a diving save from Courtois early in the 2nd half with a nice turn in space. Beautiful touch to assist Lingard's goal.
Subs
Memphis Depay – N/A
Morgan Schneiderlin – N/A
Ander Herrera – N/A