Iheanacho replaces Nasri in Manchester City's Champions League squad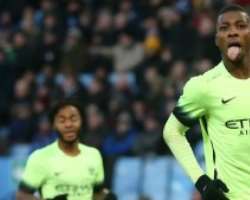 The Bayern Munich boss will take over the Manchester City reins in the summer, and the prospect of a hook-up with the Nigerian wonderkid is tantalizing for both parties
Manchester City have included Kelechi Iheanacho in their Champions League squad.
The 19-year-old who has been in fine form for the Citizen this season replaces Sami Nasri who has been ruled out of the competition.
"Yes, Kelechi will be in the Champions League squad. I told Samir Nasri i would take him out of the list as he needs two months more to be fit. We need Kelechi now as Bony is injured too. We couldn't take the risk to go into the last 16 game with just Kun," Pellegrini confirmed to club's website.
"It's always difficult to tell a player he will not continue in the list but Samir understood perfectly that he needs at least two months more.
"It wouldn't have been easy for him to recover his best performance in that length of time. We needed another striker and Kelechi is in a good moment.
"Kelechi is one player in our squad – it's important when young players have the option to show why they're an important player. He will continue trying to fight to start every game. For me, as a manager, you have to work with the whole squad as we have to play so many games.
 "It's important for everyone, not just for the players but for the club who've invested a lot of money in the training ground to have players arriving from the Academy into the first-team.
"It's important to bring young players into the first-team but they must be good players so that we continue to be a competitive team," he concluded.
Iheanacho's treble against in Manchester City's 4-0 defeat of Aston Villa on Saturday ensured the Citizens qualified for the fifth round of the English FA Cup fifth round.