Under fire Louis Van Gaal slams Manchester United players after 3-3 draw with Newcastle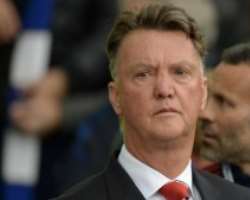 OLI SCARFF/Getty Images
Manchester United  manager Louis van Gaal has slammed his players after watching them twice give away leads against Newcastle United . The Red Devils drew 3-3 at St James' Park on Tuesday despite going 2-0 and then 3-2 ahead.
Van Gaal made it clear where the blame lies, according to the Sun 's Duncan Wright: "When you lose two points, everybody knows it is our fault—it is not the ref or the opponent, we did it by ourselves."
The Dutchman rued his team's inability to score more goals despite some excellent chances. Van Gaal felt United should have doubled their tally: "They have to finish the chances. [Wayne] Rooney had a big chance in the first half. We could have scored six goals here, there were big possibilities."
Scott Heppell/Associated Press
Rooney missed a big chance in the opening half.
Mentioning Rooney's first-half miss will likely strike a chord with many fans. United's skipper was superb on the night, bagging a brace and leading the line brilliantly. But even a great performance isn't enough to make the demanding Van Gaal ignore the chance that got away.
Speaking of great chances, that's just what winger Jesse Lingard and midfielder Marouane Fellaini wasted. The former blasted over the goal with the score 2-1 in the Red Devils' favour. Meanwhile, Fellaini headed at goalkeeper Rob Elliot with United leading 3-2.
On both occasions, United were made to pay a high price for their profligacy. Lingard's miss was followed by an Aleksandar Mitrovic penalty to even the score at two apiece. The penalty was awarded after the 6'2″ striker tussled with United centre-back Chris Smalling.
Ian MacNicol/Getty Images
Van Gaal took exception with the awarding of Mitrovic's penalty in the second half.
Van Gaal didn't think it was a penalty but still kept the focus on his own players' failings, per BBC Sport (h/t ESPN.co.uk ):
Of course it feels like a defeat.
We have given it away — I have told that to my players. When the referee gives a penalty for nothing — it is a duel I think and you cannot decide who is worse — but we gave it away.
The under-fire United boss believes his team have missed a great opportunity to build some genuine momentum ahead of facing arch-rivals Liverpool: "We could have scored six goals easily here and we did not. If we had, it would have been three successive wins at the start of the year going into Liverpool."
Should Van Gaal blame his players?
Yes No SUBMIT VOTE vote to see results
Van Gaal's United have been criticised for not producing enough going forward this season. But he believes his team have proved their willingness to attack, per Wright: "I don't agree with the analysis of many people. We are always attacking. But I have to live and cope with it, my players have to, but now we have given two points away."
But Van Gaal has also stressed how simply making chances isn't enough, per the BBC (h/t ESPN.co.uk): "It is not so interesting to create chances. In every press conference I say you have to score one more goal than the opponent."
Where does the fault lie for United's struggles this season?
The players The manager Attack Defence SUBMIT VOTE vote to see results
The Dutchman will know how costly those two dropped points have been when he consults the table. He'll see United sitting sixth, per the league's official site , two points and as many places outside the top four.
That's unfamiliar territory for the Old Trafford club. But for once, goals weren't in short supply for Van Gaal's men. Issues at the back proved more costly.
Yes, they wasted key chances. But when scoring three goals isn't enough to win, the blame doesn't lie in attack. It belongs further back.