Glazer family makes u-turn, wants Louis van Gaal sacked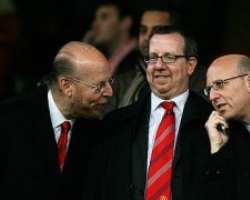 Louis van Gaal's position as  Manchester United manager is reportedly hanging in the balance after the club's owners, the Glazer family, have performed a "U-turn" on their decision to back the beleaguered Dutchman.
According to the Daily Star's  Jeremy Cross , Van Gaal was given assurances in December he was in no danger of losing his job before the summer at the very least, but with little sign of improvement on the field, the Glazers have seen "their patience tested to the limit," which could force them to relieve him of his duties.
The Red Devils were winless in their final eight games of 2015, and though they have started this calendar year with two wins from two matches, they are still yet to show any inspiration or real sense of building toward a specific goal or style.
In the Premier League, United are fifth—nine points behind leaders Arsenal —and have accrued just 24 goals in 20 matches.
OLI SCARFF/Getty Images
On Saturday, United laboured to a 1-0 victory over Sheffield United in the FA Cup at Old Trafford, requiring a last-gasp penalty from Wayne Rooney to avoid a replay with the League One outfit.
Club legend Paul Scholes was scathing in his assessment of proceedings, per Squawka News:
Their frustration is shared by a large number of supporters, who showed their displeasure at Saturday's performance by streaming out of the ground by the thousands before Rooney's penalty.
Nevertheless, Van Gaal believes United fans should be content with the club's current situation. Per BBC Sport , he said: "We have won two matches in a row out of a bad period. You have to be happy as a Manchester United fan that we have won two matches in a row and we are in the next round."
Jon Super/Associated Press
For supporters of a club that dominated English football for over two decades under Sir Alex Ferguson, a 2-1 win over a struggling Swansea City and a 1-0 win over a club in England's third tier is hardly going to be enough to appease them—even if they'd actually come close to convincing.
Will Van Gaal be in charge for the rest of the season?
The club refused to blink over the Christmas period, when the fervour for Van Gaal's dismissal was at its peak, so they're not likely to sack him now on the back of two wins—however unconvincing.
United are arguably still just about in the title race and firmly in contention for the top four at least, so for as long as that situation remains, Van Gaal will probably stay in charge.
Should that change, though, and if the team aren't showing concrete signs of improvement in both performance and results, it would hardly be a surprise if the 64-year-old received his marching orders.