LAWMAKERS SPLIT OVER PLOT TO IMPEACH BANKOLE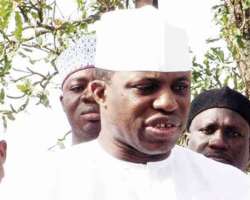 By Festus Owete
April 21, 2010 01:51AM
Dimeji Bankole, Speaker, House of Representatives Photo:NEXT
Members of the House of Representatives from the six states in the South West geo-political zone are reportedly divided over the alleged moves by some members of the House to remove the Speaker, Dimeji Bankole, from office.
This is just as the leadership of the House, at an executive session yesterday, appealed for calm. Members of the Nigeria First Forum (NFF), a pressure group in the lower legislative chamber, were alleged to have initiated a plot to unseat Mr. Bankole, who is currently stranded in London as a result of the volcanic ash which halted flights across Europe.
NFF, according to reports, is moving against the Speaker over financial impropriety and poor leadership style.
The group has since denied the plot, though it admitted that its members are not happy with the way the Speaker is administering the House.
Deputy Speaker, Usman Nafada, had dissolved the House into executive session for 45 minutes, during which the alleged threat to remove Mr. Bankole was discussed.
Although Mr. Nafada had announced after the session that the lawmakers discussed the approach to be adopted on the constitution amendment and Electoral Act, it was gathered that some members complained about the Speaker's leadership style, saying it has put the House in a bad light.
Among the issues raised were that of the 2010 Budget and the leadership's handling of the political crisis in the country, which they claimed would have done a lot of damage to the lower legislative chamber.
Peace emissaries
Mr. Nafada was said to have appealed to the aggrieved lawmakers for understanding and assured that all the issues they complain about would be addressed.
The deputy speaker also told them that Mr. Bankole has been sending emissaries to some of the lawmakers asking them to wade into the matter with a view to resolving it.
Some of the aggrieved lawmakers were said to have complained that the 2010 Budget was doctored, even though the entire House had passed the document on the floor.
Our source said that but for the quick dissolution into executive session some minutes after its resumption from the three week Easter break, the members had planned to come up with a motion on vote of no confidence on Mr. Bankole.
Source http://234next.com/ www.234next.com