Commissioners Cannot Take Loan – Rivers Ex-information Boss Declares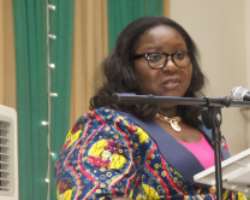 SAN FRANCISCO, January 05, (THEWILL) – Former Rivers State commissioner for information and communications, Ibim Semenitari, has on Monday, declared that commissioners could not borrow money on behalf of a ministry.
Semenitari made the remark in Port Harcourt in her defence to an allegation by the new commissioner of information and communications that she took a loan of N1 billion on behalf of the ministry while serving as commissioner.
Semenitari, now Acting Managing Director, Niger Delta Development Commission (NDDC), said it could not be further from the truth any insinuation that she took the facility from a bank.
The commissioner had alleged, during a radio programme, that his predecessor took the loan from a bank while serving as commissioner. But Semenitari replied saying "No commissioner can do that. I did not. This is a definite and unfortunate lie."
Semenitari said no ministry could borrow from any bank, as "it is against financial guidelines and service rules. Only a state government can borrow and there was no project in the ministry of information requiring government to borrow."
The former commissioner therefore challenged her successor to show proof or evidence that she borrowed the money while serving the state as commissioner for information and communications.