Ghana's Thomas Partey takes Atletico top of La Liga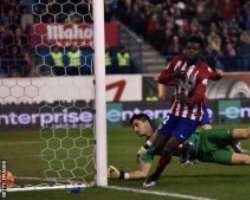 Substitute Thomas Partey scored a late winner for Atletico Madrid as they beat bottom side Levante to go top of La Liga.
Atletico took advantage of Barcelona's earlier 0-0 draw with Espanyol to move two points clear, albeit having now played a game more.
The 2013-14 champions looked like they were going to be frustrated after Koke hit the crossbar with a fantastic half-volley from 20 yards.
But midfielder Partey burst into the box and his shot was fumbled into the net by keeper Diego Marino for the only goal with nine minutes left.
Atletico's win means Real Madrid will not be able to go top when they face Gary Neville's Valencia on Sunday.
(BBC Sports)