Arsene Wenger Says Mesut Ozil Hardly Trains Between Games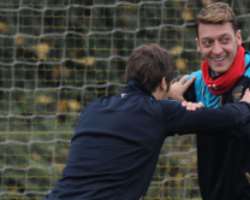 Arsene Wenger has revealed the secret to Arsenal star Mesut Ozil's success – he barely trains between games.
The 27-year-old Germany international has been in superb form this season as he has racked up 16 Premier League assists to help Arsenal surge to the top of table at the halfway point.
Ozil has been a model of consistency for the Gunners as he has started 18 of their 19 league games – a statistic which takes on added importance given the injuries suffered by midfield colleagues Santi Cazorla, Jack Wilshere and Alexis Sanchez.
Wenger was criticised for over-playing Sanchez before he pulled up with a hamstring injury against Norwich in November but he is determined to avoid the same mistake with Ozil.
"Mesut, I gave him a one-week holiday during the international break," Wenger said. "At the moment he doesn't practise a lot, we rest him a lot between the games.
"He is a guy who once the basic fitness is there between the games, he wants to play.
"There are types of players, sometimes the most technical players, it looks like it demands less energy for them to play – it is just natural for them."
Arsenal's injuries have necessitated Wenger picking Ozil for every game except a 1-0 away win against Newcastle in August but the Frenchman says his playmaker is in such good form he would be afraid to rest him anyway.
"I don't have Wilshere or Cazorla who are No 10s," he said. "I could rest him more if I had these players because Wilshere can play there and Cazorla can play there.
"You look as well at the impact he can have on other players.
"The Premier League is very tight and if you go in the decisive game and you do [rest Ozil or other star players], then other players think subconsciously, they don't tell you, 'why?' – even the player himself."
Mesut Ozil recieves the PFA Fans' Player Of The Month award for November
Ozil's team-mates have been the main beneficiaries of the former Real Madrid man's current form and Theo Walcott believes he has been the Premier League's outstanding player so far.
The England forward missed several chances to get on the scoresheet in Monday's 2-0 win over Bournemouth but Ozil bailed him out as he scored one and created another for Gabriel.
Walcott labelled Ozil a "special player" as he continues to lead the Gunners' title challenge.
"He has told me to just keep making runs, he just spots it," Walcott said. "I need to help out by putting them in. Mesut is just in the form of his life, he is just a special player.
"Some of the things you see on the pitch – his goal alone, he didn't break stride and it was like he was jogging. He just slows things down when he is playing. The finish [against Bournemouth] was class."
SKYSPORTS