Chelsea Will Battle Manchester City For Pep Guardiola, Says Guillem Balague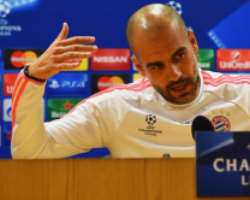 Chelsea are attempting to convince Pep Guardiola to join the Premier League champions over Manchester City, according to Sky Sports' Spanish expert Guillem Balague.
Bayern Munich announced on Sunday that the Spaniard would be leaving the Bundesliga champions in the summer to be replaced with Carlo Ancelotti, and Balague says Manchester City and Chelsea will battle it out for the 44-year-old's signature.
Balague insists City believe they have done enough to secure Guardiola's signature, but that the former Barcelona manager may favour a move to London with Chelsea, who sacked Jose Mourinho last week.
He told Sky Sports: "City are convinced they have done enough to get Pep Guardiola, but they have not signed anything.
"Roman Abramovich is aware of that and is trying to convince Pep by giving him a blank chequebook.
"The only thing that is clear is that his next job is in the Premier League. That's the only thing that nobody doubts."
City are third in the Premier League following their defeat by Arsenal on Monday Night Football, their third in five league games, and Guardiola is favourite with Sky Bet to become their next manager.
But Balague is of the opinion that while City is the more attractive project, London is the more attractive location.
"City want him to become their Alex Ferguson, the one who puts the foundation for the future of the club.
"In my opinion, City is an attractive project but Chelsea is in London and there is that attraction.
"His intention is to give an answer in January to his future employees."
SKYSPORTS