2016, Year Of New Beginnings, Sylva Tells Bayelsans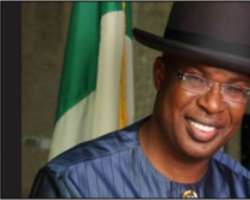 BEVERLY HILLS, January 01, (THEWILL) – The All Progressives Congress governorship candidate in Bayelsa State and former governor of the state, Chief Timipre Sylva, has told Bayelsa people and Nigerians, generally, to see the New Year as an opportunity to make a new start in their individual and collective quests for development.
Sylva stated this in a new year's message he issued to the state on Thursday even as he sued for peaceful coexistence among the people and urged them to eschew divisive tendencies.
In the statement signed by his media adviser, Mr. Doifie Buokoribo, Sylva said, "As we welcome the New Year this Friday, we should also embrace the new hopes, new opportunities, and new vistas it opens for us as Bayelsans and Nigerians to stand out and fulfill our personal and collective destinies.
"Let us sincerely rededicate ourselves to the fond hopes and expectations of our founding fathers and steadfastly endeavour to uplift the welfare, peace, and security of our people. We have a perfect opportunity to reboot and rebuild.
"We have come a long way as a state and as a country. We have crossed the bridges over many rivers. And it has pleased Mother Nature to keep us together, despite our fault lines. So it behoves us to focus on issues that would sustain and strengthen our togetherness – rather than those that would destroy it.
"In recent times, some leaders have, most unfortunately, chosen the expansion of our fault lines as the hallmark of their strategy for power. We should reject these divisive tendencies and see politics as a way of building bridges between our peoples, both here in Bayelsa State and across Nigeria.
"The election coming up on Saturday, 9 January 2016, in our state offers us a perfect opportunity to demonstrate our rejection of the politics of clannishness, brigandage, and exclusion. It offers us a great opportunity to change our old ways and move with the time's progressive philosophy.
"I wish our state and country great success and prosperity. May the peace of the Almighty God reign in our land throughout 2016 and beyond.
"Happy New Year."