Man Utd Players Trying Their Best For Louis Van Gaal, Says Michael Carrick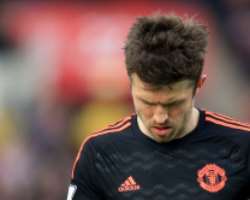 Manchester United midfielder Michael Carrick says it is "disrespectful" to suggest that the team could be trying harder for manager Louis van Gaal.
Van Gaal is under huge pressure ahead of Monday's game with Chelsea, after United's winless run stretched to seven matches when they lost 2-0 at Stoke on Boxing Day.
Having made a promising start to the season, United are now out of the Champions League and have dropped to sixth in the Premier League, nine points behind leaders Leicester.
But vice-captain Carrick says that, while himself and the rest of the squad may deserve criticism for the poor results, he poured scorn on the notion that the players may not be giving their all.
"I have a lot of pride in myself and in my performances and I think it is a bit disrespectful when people say that the lads aren't trying for the manager," he said.
"That hurts us a lot, because that is not the type of people we are.
"We haven't won games and it is fair enough if people criticise things that have gone wrong on the pitch.
"But I think to say we are not trying for certain people is quite disrespectful and it hurts us a lot.
"We're playing for this great club, it is a special club. It is pride in yourself, pride in the club and pride in everyone – your team-mates and staff."
And Carrick says everyone at United is focused on ending the poor run with a victory in Monday's massive Old Trafford showdown.
"It is a horrible run, and it is a horrible feeling," he said. "It hurts badly.
"The run we've been on is just not good enough. We can't hide from it, we're not going to hide from it. That is how it is and we all need to be better.
"We've just got to try and turn it round on Monday, it is the only way."
SKYSPORTS