Mikel, Kanu, Okocha make Africa's top 10 richest footballers of all time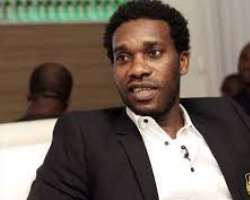 Nigeria's Mikel Obi alongside retired players Jay Jay Okocha and Kanu Nwankwo are among the top 10 highest earning African players of all time according to a study conducted & published by French publication, Footendirect, as reported by Vanguard. With a cumulative take-home of $50 million, John Mikel Obi is now the best paid among the current generation of Nigerian players.
According to Footendirect, Mikel who earns about £75,000 per week at Chelsea has a total earnings estimate of $50m while Kanu Nwankwo and Jay Jay Okocha who have since retired made $100m and $150m respectively from their career.
See the full list below:
1. Samuel Eto'o/Antalyaspor : 202 millions de dollars 2. Yaya Touré/Manchester City : 170 millions de dollars 3. Didier Drogba/Montreal : 155 millions de dollars 4. Jay-Jay Okocha : 150 millions de dollars 5. Nwankwo Kanu : 100 millions de dollars 6. Michaël Essien/Panathinaïkos : 70 millions de dollars 7. Emmanuel Adebayor/Libre : 57 millions de dollars 8. Obi Mikel/Chelsea : 50 millions de dollars 9. Kolo Touré/Liverpool : 43 millions de dollars 10. Sulley Muntari/Al-Ittihad : 40 millions de dollars.