Lionel Messi And Neymar Doubtful For Barcelona Clash With River Plate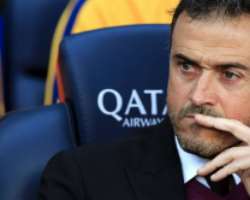 Barcelona head coach Luis Enrique is unsure whether Lionel Messi or Neymar will be fit to face River Plate in the Club World Cup final.
Messi came down with abdominal pains before Barca's 3-0 semi-final win over Guangzhou Evergrande on Thursday and was forced to miss the match, while Neymar is still recovering from a groin injury.
Luis Suarez's hat-trick meant Barca did not feel the absence of the two forwards too much against Luiz Felipe Scolari's side, but Enrique could not say whether the pair would be able to play any part in Sunday's final.
"We don't know if we'll be able to count on Messi or Neymar," he told a press conference. "They don't know if they'll be ready and neither do we, so we'll have to see."
The Barca boss was pleased with how his side coped without the star duo, and singled out Suarez and Andres Iniesta for particular praise.
"The team gave a very serious display, making almost no errors and that's important in games like these, when you know very little about your opponents," he said. "Overall, we played a very complete game.
"Iniesta dominated the play and can dribble better than anyone, and Suarez is a deadly assassin, capable of scoring any chance he gets in the area, while he also presses and motivates the rest of the team. He's indispensable."
Suarez was named man of the match, and dedicated his treble to his team-mates.
"This was for all the group, for Leo, Neymar and everyone who didn't play," the Uruguay striker said at a press conference.
"All our players are important, but it was vital that I concentrated so I could win us the game. We know that Messi and Neymar are vital for this team and now all we can do is hope that they recover as soon as possible."
Suarez looked forward to an intriguing final against South American champions River, who won the Copa Libertadores in August and qualified for the Club World Cup final with a nerve-wracking 1-0 win over Sanfrecce Hiroshima.
"We really wanted to play the final and we have got there," the former Liverpool man said. "We know that South American teams are always strong and tough, and River are no exception. They are one of the biggest clubs in Latin America and they won the Copa Libertadores for a reason.
"Now we have to prepare for the final in the best way possible so that we can win the trophy which we all want to win, and the trophy we came here to win."
SKYSPORTS