TOYOTA AGREES TO PAY $16.4M FINE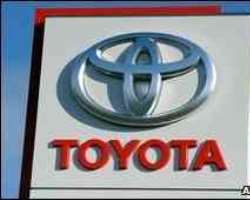 Toyota decided not to appeal the record fine
Toyota has agreed to pay a record fine of $16.4m (£10.7m) in the US for failing to report defects in some of its vehicles' accelerator pedals.
The Japanese carmaker denied hiding the defects, but again acknowledged that it could have handled the issue better.
Some 2.3 million Toyotas were recalled in the US in January amid reports the accelerator pedals could become stuck.
Later on Monday, Toyota announced it was recalling about 34,000 Lexus GX 460 and Land Cruiser Prado SUVs worldwide.
The company said it would update the vehicles' stability-control software programme to reduce the risk of them sliding sideways when turning sharply at high speeds, partly because the fuel tank and the presence of the driver might make the left side of the vehicle heavier.
By failing to report known safety problems as it is required to do under the law, Toyota put consumers at risk
Ray LaHood
US Transportation Secretary
The move comes less than a week after the US consumer magazine, Consumer Reports, warned that the Lexus GX 460 was prone to roll-overs, prompting Toyota to recall nearly 10,000 sold in the US and Canada.
Toyota had earlier announced the recall of 600,000 Sienna minivans in the US, saying prolonged exposure to road salt might result in excessive corrosion of the spare-tyre cable, and that the tyre might fall off the vehicle.
'Possible litigation'
After paying the biggest fine ever handed out by the US Department of Transportation on Monday, Toyota insisted it had not violated safety regulations and was only paying the fine "to avoid a protracted dispute and possible litigation".
"I am pleased that Toyota has accepted responsibility for violating its legal obligations to report any defects promptly," said Transportation Secretary Ray LaHood in a statement.
"By failing to report known safety problems as it is required to do under the law, Toyota put consumers at risk."
Toyota overtook General Motors in 2008 as the world's biggest carmaker, but has since blamed its quality control problems on its rapid expansion.
Executives from Toyota were fiercely criticised in the US Congress and the company's once high reputation has been left in tatters.
Toyota has recalled more than 8m vehicles since late 2009 for brake and accelerator defects, and is facing 97 lawsuits for damages for injury or death linked to claims that cars were faulty.