CUBA'S CARDINAL JAIME ORTEGA SAYS COUNTRY IS IN CRISIS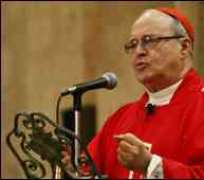 This is not the first time that Cardinal Ortega has spoken out on events
The head of the Catholic Church in Cuba says it is in one of its worst crises in recent times and people are openly criticising the socialist system.
Cardinal Jaime Ortega told a local Catholic newsletter that there was a national consensus that the government make the necessary changes "quickly".
He also urged the Communist authorities to free all political prisoners.
Cuba is suffering its worst economic hardship since the slump that followed the collapse of the Soviet Union.
The global economic crisis, the continued US trade embargo, and recent hurricanes have all had an impact on the state-run economy.
'Stalinist-style bureaucracy'
The BBC's Michael Voss in Havana says this is not the first time that Cardinal Ortega has spoken out on current events in Cuba, but his interview with Palabra Nueva (New Word) was more outspoken than most.
The 73-year-old prelate said that people were openly talking about the deficiencies in Cuba's socialist system, calling it a Stalinist-style bureaucracy producing apathetic workers and low productivity.
The cardinal criticised the intimidation and arrest of dissidents and protesters
"Our country is in a very difficult situation," he warned. "Certainly the most difficult we have lived in this 21st Century."
President Raul Castro has put through some small-scale economic reforms, but warned that further changes will take time, our correspondent says.
Cardinal Ortega said that people differed over how to solve Cuba's woes, but that everyone agreed that "the necessary changes are made quickly".
"I think this feeling has become a form of national consensus, and its delay is producing impatience and unease among the people."
He also referred to the recent death of a dissident hunger-striker in jail and the growing harassment of the "Ladies in White" – the wives and mothers of political prisoners – actions he called "distressing".
He also criticised US President Barack Obama for failing to restart a genuine dialogue with Cuba, and following his predecessors' policy of demanding reforms as a prerequisite to end the trade embargo.