Mischief Makers At It Again: Smear Campaign Targets Mrs. Obiano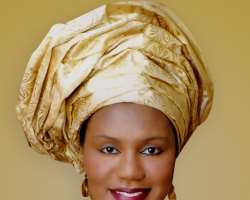 Another attempt to smear the person and character of the wife of the governor of Anambra state Chief (Mrs.) Ebelechukwu Obiano has been hatched by the virulent opposition masquerading as do-gooders while spreading falsehood without regard to reason and good judgment. A Statement by Dr. Clarkson Ibe, an Onitsha based Democracy and Media Ethics advocate, warned online platforms currently receiving such materials to ignore the wicked lies.
Dr. Clarkson Ibe, said that his organization observed that it has become the favorite past-time, of some purveyors of falsehood to concoct unimaginable hate tales aimed creating unsavory impression of events they imagine and create in their heads before dumping it at the corridors of the Anambra governor's Lodge. Unfortunately, these scandal mongers and their agents find willing tools in the social media and prey on the gullible to push their fabricated tales.
According to the democratic rights activist, we know the real fact because in the past two weeks the governor of Anambra State, Chief Willie Obiano and his wife, Chief (Mrs.) Ebelechukwu Obiano have been on whirl-wind tour of the Local Government and communities across Anambra State. Whilst the governor is moving round on a thank-You tour to thank the All Progressives Grand Alliance (APGA) members and fulfill a promise made to them during the last elections, the wife is busy spreading Christmas love to indigent women, widows and the less privileged across the communities to ensure they do not have a bleak Christmas.
Yesterday, the Obiano's visited Oyi and Dunukofia council areas respectively to a tumultuous reception and appreciation by an appreciative and adoring Ndi Anambra. Any wonder the renewed attempt to whittle-down impact of the ever growing profile of the Obianos with another tale from the pit of hell?
Dr. warned unemployed young who have become willing tools in the hands of political fraudsters to avoid blackmails. He also advised, "It behoves on every discerning and well-meaning onye Anambra and indeed Nigerians to ignore attempts by hirelings of the agents of destruction who use the social media as smokescreen to malign and smear people in the corridors of poor for a mess of porridge."
Dr Clarkson who said that it was such smear campaign that drew his group to track the activity of the Obianos in Anambra, quoted Chief Mrs. Obiano reaction to such salacious tales, "no amount of blackmail and mudslinging can distract my husband from fulfilling his mandate to Ndi Anambra; my role is simply to support him like every good wife does to ensure that our people enjoy good governance."