How Emem Isong Gave out N900 Thousand at Lagos Event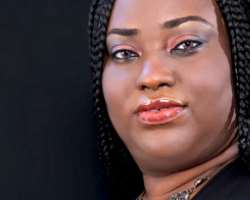 Nollywood producer, Emem Isong Misodi, over the weekend kept to her promise as she gave out the sum of N900,000 to winners of her short film contest which she organised for students of her academy, Royal Arts Academy.
The actress redeemed her pledge during the premiered of her new film, 'Spotlight' amidst glamour and elegance at the Civic Centre in Victoria Island, Lagos.
Emem explained that the short film contest is part of her Spotlight Youth Empowerment Initiative, and as it will be a yearly programme to unsure that new talents are discovered.
Guests like Hon. Desmond Elliot, Lancelot Imaseun, Funlolar Aofiyebi-Raimi and many others were in attendance to show their support.
The first prize of N500,000 went to Smart Nsikan for the short film, 'Two Chicks and a Dude.' The second prize of N250,000 went to Ikechukwu Akanno for the short film, 'Hot Soup.' The third prize of N150,000 went to Onyeka Emechebe for the short film, 'Our Girls.'