2011: JONATHAN / RIBADU TICKET IS THE ANSWER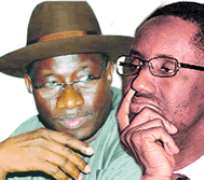 Goodluck and Ribadu
Former Military Administrator of Delta State, Col. John David Dungs, has said that a Goodluck Jonathan/Nuhu Ribadu ticket will be the best for Nigeria today. He told Daily Sun that Nigerians are no longer interested in those who have made trillions, but in those who would make them worthy to be called human beings by creating conducive environment for people to earn a living.
A Jonathan/Ribadu ticket, Dungs said, will create competition where those that come into office will want to beat their predecessors. Dungs, a member of the Plateau Elders Forum, also spoke on the unending Jos crisis and other issues. Excerpts:
Fulani and their cows in Plateau State.
'The meeting between the Berom and Fulani leaders with the Gbong Gwom Jos cannot achieve much. The issue of the Fulani and their cows is a national one and the Federal Government has to address it. If the cows are in need of grass, the herdsman allows them go into people's farm. We have seen it across the country. It is the same grazing problem that has been putting them into trouble with the people they live with.
'It may be a long a long-term plan. We must start looking for the type of cows that they have in Europe. Those they get through artificial dissemination and kept in one area feeding instead of dragging them through the West African coast for too long. In the interim, they should learn to live in peace with their host communities and not destroy their crops.
'Some of the Fulani have gone as far as taking over the lands from the land owners. They would not even allow the land owners to plough their lands again. These are some to the things I expect the Gbong Gwom and the traditional leaders including the Ardos  to address.
'The Fulani who had co-habited with other people for about a century are now beginning to have problems with their host communities because things are changing gradually. Those of them who had left the cow business to attain western education and now in position of authority are the ones causing the problems between the herdsman in the bush and their host communities. They are the ones instigating their brothers to start demanding to have a say in the communities they stay.
'The Gbong Gwom meeting could just reduce the friction but would not solve it. If the educated ones now in national and international levels talk to them surely they would listen.'
The Solomon Lar Advisory Committee
'The Solomon Lar Advisory committee is doing its best but it cannot get the lasting solution to the problem of Plateau State. The lasting solution lies in pacifying the people that are highly aggrieved and for them to forgive, even then it would be difficult for them to forget. For one whose child's head was cut open into two like watermelon, it would be difficult for such a person to forgive such wickedness. It would take time for real reconciliation to take place. Even if a truth commission is set up it cannot solve all the problems.
'We saw what happened in South Africa recently. The leader of the Afrikaners was killed by the workers who are Black because they had not forgotten the punishment they went through during the apartheid regime. It means the truth commission had not solved all the problems but only reduced it. The new cabinet has just been sworn in, we hope the Federal Government will be able to put things in proper perspective in Plateau State.'
Solution to Jos crisis lies in Jos North Local Government.
'The center to the crisis in Jos in is the creation of Jos North Local Government council by the Babangida Administration. That was not the request of the people. They had demanded for Jos East and Jos West local and not Jos North.
'Even now that we have the local government in place, it can still be divided. Along the Bauchi Road, coming from the University of Jos to theTerminus and to Zarmangada. Anything on the left of the road let it be Jos North East. Anything on the right, let it be Jos North West and that will satisfy everybody. It would cool down the tempers.'
Deaths of the two senators and Rimi bad omen for 2011.
'The deaths of the two senators from Gombe State could be a sabotage by people who wanted to see them out of the way. One of them I learnt, was aspiring to be governor of the state. 'In the case of Rimi it was politics of calumny. There could be a foul play. I think that Rimi's death might not be caused by armed robbery. Something more is behind his death. Knowing very that the man was hypertensive, they could have harassed him and got a shock. As a former governor, he was supposed to be with policemen. So where were the security people that were supposed to be protecting him?'
2011 contest
'The 2011 contest will be bloody. We just pray the Almighty God would intervene and make people agree that power is not by force. That it is God who gives power. We should not try to eliminate one another to climb up to power. Some of us feel disturbed with what is going on at the national level.
'There is nobody who cannot fall sick and we should not use death or sickness for politics. We are suppose to learn the democratic ways of doing politics from people who have been practicing it for some time.
In Nigeria we have not really started. We are just confused about what democracy is all about. There is no internal democracy in the parties and in the nation in general.
'Even in the body that is supposed to conduct the election does not know what to do about it. The judiciary is not doing what is expected in true democracy. It is still being influenced by certain factors. From all the houses of assembly to the National Assembly, we are not yet practicing democracy. The primaries of the parties are coming we will see that there will be no democracy in it. It will just be selection.'
We never agreed on zoning in PDP
'We say we are one country and are talking about zoning system particularly in the Peoples Democratic Party (PDP). The Constitution clears issues concerning the Vice President. Immediately the President took ill, they should have written to the National Assembly so that the Vice President could take over immediately but they never did.
'Yar'Adua promised to make the Nigerian nation one of the best in 2011.
By the trend of events it is not likely we will get there. If we continue and fail to make a change, we may never even get there. Let them leave Yar'Adua to recuperate properly. People should stop playing politics with his health. They should let him enjoy the remaining part of his life that God wants him to enjoy. They should not truncate his life just because some people want to climb on his back whether dead or alive to get what they want.
'If they had follow the due process which Yar'Adua introduced, Goodluck would have been sworn in as the president of this country since We would have moved forward. If he takes us to 2011, there is no reason we cannot ask him to continue through the ballot box if he does well. That would be the wish of Nigerians, if he can take us to the Promised Land, let it be.'
Jonathan is free to contest
'No law says the North must produce a candidate. I was there in the last PDP's convention. Numerous candidates from all over the country were contesting. Then they came up with a consensus candidate. That means all of them contested.  The various candidates who gave in for Yar'Adua to emerge as consensus candidate were there on the screen and they all spoke.
There was no decision there that it was North or South producing the next president.
'We are all Nigerians. If we must practice that we are one nation then we must also start practicing how we must love one another and stay together. The Constitution says we can stay in any part of the country and be citizens there. The same Constitution is silent on indigeneship. In everything we do today, they call for certificate of indigeneship. This means we still go back to those things that divide us, so are we really one? These are the powers that are now playing against us.
'In America, you can live anywhere and after a few years, become a citizen and aspire to be anything in that place. America's democracy is about 200 years old. We agree to practice democracy but have not agreed to do what is being done over there. This is why people are clamouring for sovereign national conference so that we can agree to move that way if we agree to stay together.
'If we agree to stay together, we should not be showing nepotism, tribalism or any religious inclination. If we do that then we can say we are true Nigerians. We must begin to move it now that we need a sovereign national conference and begin to believe in it so that after the elections we can hold it.
'Whoever becomes the next president, after 2011 can evoke it so that the conference can hold. We can during the conference look at every facet of our living, how we want to live together. We have to put the grievances of every section of the country in the front burner and everybody would know what each group is facing.
'That is the time this problem of indigene ship could be settled and we can talk of real nationality. When appointments would be shared, whether it is based on merit or not, we will know it. It would not be because he is my brother or because we are of the same faith.'
IBB and Atiku
'If IBB and Atiku want to contest, let them face the people. If we allow internal democracy, right from the smallest unit to the state and federal level, the right candidate will emerge. If you allow people to choose the candidate they want we will not have problems.
'That is why I like this idea of independent candidacy. If the parties would not want to follow the due process, the candidate can stand on his own. That will put seriousness in the internal democracy of the parties. All the parties have only been selecting probably the highest bidders. Most of those in the National Assembly who would have corrected this would not have the will to entrench it in the electoral reforms because most of them know how they got there.'
Sovereign National Conference
'No matter how flawed the next election, we should have a sovereign national conference after the election probably by 2012. There is also the need to down grade power in the centre and give more powers to the states and let the center have only few ministries. 'State governments should be truly effective in developing the states. We should be practicing true federalism where the states are powerful enough to take care of themselves. Then people would not be too much interested in going to the center.
'Then with resource control, it is only a percentage of what you produce that would be going to the center. Most states will now wake up. Those who have forgotten about agriculture would go back to it. Those who have other endowments like solid minerals would fall back to it. 'The Niger Delta where the crude oil is coming from has been calling for resource control would have its way. I have worked in the Niger Delta and know the problems of the creeks. We have had similar experience in Plateau State where the tin mining had devastated the land and nothing is given in return. They left us with mining ponds which are killing most our people.
'The situation is even worst in the Niger Delta. Now that we have global warming, the sea will rise and most of the coastal areas are going to be submerged. So they need their resources to develop those areas. We know that those who are governing those areas have not really performed to the expectations of the people. If they had performed well, the Niger Delta
would have been much more better.
'We Nigerians love flamboyant life. We like siphoning monies and we believe that they are safer in countries abroad. If those who had held positions in Nigeria have re-invested such monies probably people would not be complaining today. 'I believe this God we are serving will change their hearts. We will go back to the 1960's whereby they were using our funds to work for the states. The leaders were not taking all our monies abroad but investing our funds.
'All the bridges in Lagos were built during Gowon's regime. Gowon did not have a house. People had to build a house for him, before he bought an old mining house here in Jos. All they were thinking then was investments and developing the country. That was the beginning of oil regime. Now that the oil is everywhere not much has been invested to better the lives of the people.'
Nigeria needs a revolution
'I believe Nigeria needs a revolution. Not that we should shield blood. A youthful revolution where technocrats who have seen it all in advance countries and have seen how those countries have developed will take over and revolutionize this country. 'I have been sending text messages to a few friends. Goodluck should be given The Presidency of this country. Ribadu should be given to him as the vice president and this country will start moving forward. Those who would come after them would do better than them.
'It should be a competition of who did better to move this nation to world standard. It should not be who made trillions but who made Nigerians worthy to be called human beings. Those who will remove poverty from this nation by creating the environment for people to earn a living that would be worth while.
'This is possible because from the South to the North, we are blessed with oil, with so many solid minerals, agricultural products, with good weather, good soil, etc.  We no longer need leaders who would carry the money to buy streets in South Africa, UK, USA and buying aircraft that we do not need when there is poverty all over.'
Jonathan cannot be Obasanjo's stogee.
'I will not agree that Jonathan is serving Obasanjo's third term. People do not understand Jonathan. Let us give him an opportunity and to prove himself. He will be who he is and not who somebody wants him to be. Obasanjo would not have such control when he asserts himself.
'God is using him up for a purpose. God uses people, He used Obasanjo to put him there. We should give him the ticket to 2011 and put somebody like Ribadu to support him. I learnt some people are scared of him (Ribadu) coming back to Nigeria. It is people who have looted this county that are scared of him.Why are they scared?'
Governor Jonah Jang and 2011
'Only those who do not wish Plateau State well do not want Jang to come back. I do not see problem in Plateau. It is people who are not sincere with themselves that are calling themselves PDP 2. After Joseph Gomwalk no governor has worked wih all sincerity to develop this state more than the present governor. Why do they want to bring him down or to knock him down if we are sincere with ourselves?
'Some people do not have anything doing except politicking. They are only worried about scrambling to get the national cake. Most of these people have had opportunities to be in high places where they had made so much money. One wonders why they could not establish factories and companies that would be able to employ people.
'Why are they trying to pull the governor down for 2011? Jang has done well  to deserve coming back in 2011.
He might not have done well to satisfy individuals who want to the resources that come to the state. Let them even consider how much does Plateau earn compared to what he has been doing in terms of development. If they do that they will give him pass mark. So why can't they give him a second tenure?
If the fate of governor Jang is only to be determined at the polls, it will not be a problem. But can he scale through the primaries with problems on ground?
'We are not even ready to leave the PDP. We are going to put him back in the Government House on the ticket of the PDP. Before Yar'Adua took ill, he told the party national secretariat that what it did was wrong. When the president went for medical-check up it had decided to dissolve the party executives in Plateau State. How can they do that if not the general plan to destabilize the state?
'The unfortunate thing is that they are using our brothers to achieve this objective. We and will never agree. We pray that the court will do a fair ruling on April 23, so that we can move forward. The PDP headquarters witnessed the election of the executives of the party and approved of it. It was the same way they did for the zonal and also for the national body. Why must they now turn round to cancel that of Plateau? It is the North causing problem on the Plateau. To be precise, it is the North West, using some Plateau people to cause chaos. It is all power game.'