2011: RIGGING WILL ATTRACT DIRE CONSEQUENCES IN OYO — ADEWUSI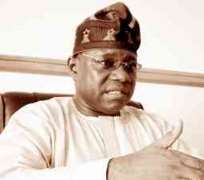 Dr. Ismail Adebayo Adewusi
A governorship aspirant under the platform of the Oyo State Action Congress, Dr. Adebayo Adewusi, has warned that rigging will attract dire consequences in the 2011 general election.
Adewusi said unlike in 2007 when the opposition 'left the space for the Peoples Democratic Party to rig the elections,' the AC was perfecting strategies to combat the menace before the next general election.
The aspirant said these at a press conference, where he formally announced his ambition, and which drew a large gathering of supporters and AC leaders across the state, in Ibadan, on Wednesday.
Adewusi claimed that some hawks within the PDP in Lagos State attempted to rig the election that produced Governor Babatunde Fashola of the Action Congress, but changed their minds when they weighed the cost.
He said that the plan fell through when the masterminds peeped outside the Independent National Electoral Commission's office and saw a massive crowd bearing matches and jerry cans filled with petrol.
The aspirant, who was a former commissioner for economic planning and budget in Lagos State, said that the Lagos AC had coined the 'rig and roast' phrase before the party's supporters exported it to Ekiti State.
He said, 'This time, if you rig in Oyo, you are dead. We will have our own strategies to fight rigging, but we will not disclose them now so that they will not circumvent it.
'I'm convinced that Oyo State deserves much more than what is obtainable now if we consider the efforts or our heroes past.
'My journey as a lecturer, banker, economist and career with the government of Lagos State, under the leadership of Asiwaju Bola Tinubu, has prepared me for the task of bringing Oyo State out of economic stagnation and retrogression.
'Our state has, in recent years, been unlucky with leaders who have for too long been playing politics with the lives of our people.'
The aspirant said that the total lack and near collapse of available infrastructure, insecurity of lives and property and pervasive poverty in the land moved him to join the governorship race.
Adewusi, who was among the eight governorship aspirants jostling for the AC ticket, said his mental and intellectual capacity put him in a good stead to clinch the ticket ahead of other aspirants.
The imposition of governorship candidate on the AC in 2007 had denied Adewusi, who was a strong contender for the ticket, the opportunity of testing his popularity among the party members.
Reminded of the experience, which provoked acrimony between the leader of the party in the state, Alhaji Lam Adesina, and the then AC aspirants, the Eruwa-born politician said that the party had since put the matter behind them.