Ouk For Fifa President, Yes He Can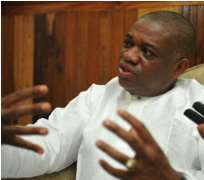 I'm Madukwe Emmanuel, calling on Africa continent and blacks all over the world irrespective of your country, let's support Orji Uzor Kalu(OUK) FIFA President Ambition. Dr. Orji Uzor Kalu FIFA Presidency bid is on the interest of African countries and should not be politicized either way. Everybody in Nigeria can attest to the fact that Orji Uzor Kalu is a man of sports and his passion for sports is undiluted especially football. The role he played in football when he was a governor of Abia State cannot be over emphasized. The glory Enyimba FC enjoyed then was because of OUK supports to the team. Orji likeness for football is beyond Nigeria and Africa as a whole. Supporting OUK for the exalted position should be seen as a welcome development and a collective effort of all African countries. So let's have our own as the number one citizen of FIFA. Africans should see OUK FIFA President bid as a concerned project that must be delivered irrespective of countries and boundaries.
I'm using this medium to call on all Africans both those here in Africa and those in offshore of Africa to show supports and also commitment to our brother FIFA president ambition. Let us canvas for him in whichever way that we can, using all kinds of social media at our disposal. No matter how little your contribution can be to make OUK FIFA president ambition reality, please do it without hesitation. Whoever believed that a Kenya man would one day be the President of America? Whoever believed that Dr. Ben Carson could disjoint jointed twins and they both survived? To me all dream and ambition are achievable unless you never tried. I'm concerned because OUK is a man of supports, worthy and fit to occupy such position in football world. As a citizen of Abia State, I have followed his antecedent in terms of football and it is obvious that OUK is the man for the post and in my little way I don't mind to canvas and support him with every means available to me both in finances and otherwise, you too can do the same, together we can achieve this task. To me it is possible and it is achievable for OUK to be the FIFA President, so let's rally round to give him the needed support. FIFA President is coming to Africa this time around and precisely to Nigeria. If you believe just like me then light up the Campaign via social media. #Sai OUK for FIFA PRESIDENT# #OUK for FIFA PRESIDENT, YES HE CAN# our strength is in our unity of purpose (Unity in Diversity) OUK FIFA PRESIDENT is a project for all blacks/ Africans all over the world. I have created an online campaign group for OUK FIFA PRESIDENT Ambition, so if you are interested in becoming a member of this group OUK4FIFA then send your details to ( [email protected] )
Disclaimer:

"The views/contents expressed in this article are the sole responsibility of

Madukwe Emmanuel

and do not necessarily reflect those of The Nigerian Voice. The Nigerian Voice will not be responsible or liable for any inaccurate or incorrect statements contained in this article."